What is the Swiggy business model? Restaurant aggregator and delivery service app, Swiggy is now a $3.64 billion company. In this business case study, we'll see how does Swiggy makes money and the business model of this food delivery application.
How does Swiggy make money?
Swiggy earns money from two advertising sources: Banner Promotions and Priority Restaurant listing. Swiggy Super subscription also adds to the company's revenue. Apart from that, Swiggy charges a 25% commission on all orders.
By the end of this article you'll know the answer to three things:
What is Swiggy and how it works
How does Swiggy make money?
Swiggy business model
What is Swiggy?
Swiggy is a food delivery service application that aggregates restaurants from across India and provides them with delivery personnel to make their food accessible to customers.
How Swiggy Works:
Swiggy connects with local restaurants
When you open the app, it displays all the restaurants near you
You select the restaurant and place your order
A Swiggy delivery captain accepts the delivery and goes to the restaurant
(S)he picks up the order once it's prepared
The order is delivered the doorstep or as instructed by the customer
A transaction on Swiggy is considered complete when:
You receive the food at your home
The delivery person receives their share of pay
The restaurant receives money for their food
Swiggy receives a 15-25% commission for making this transaction possible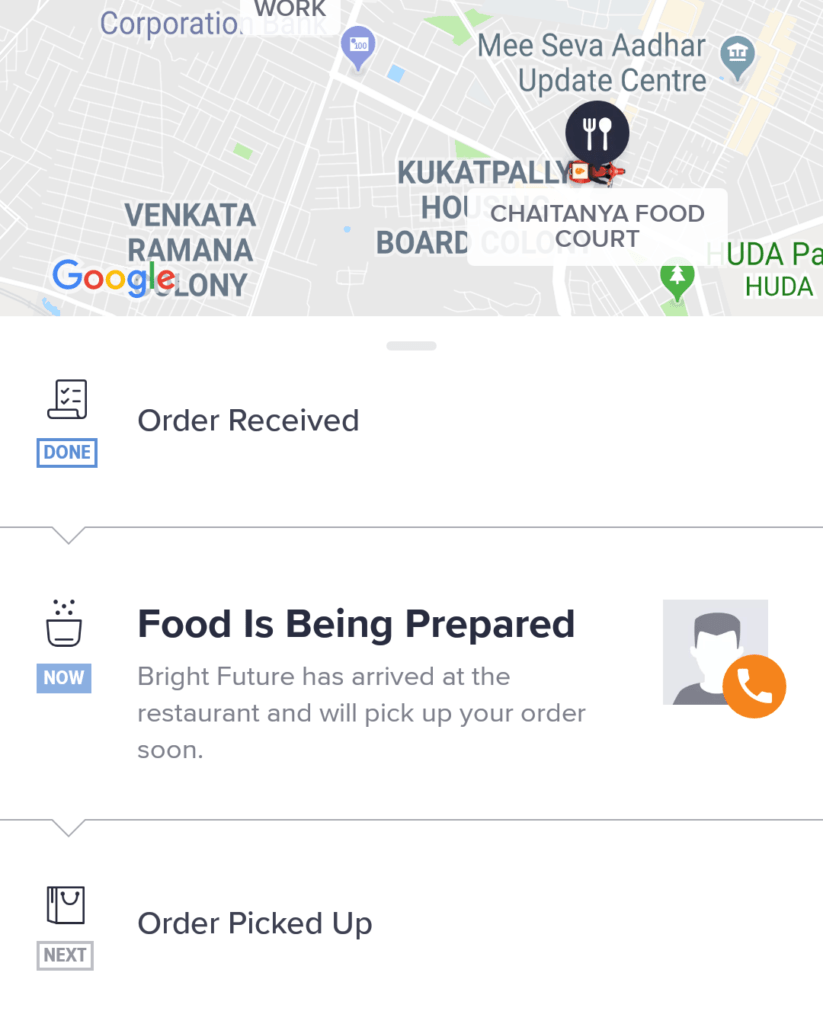 For a lot of people who enjoy the convenience of dining at home, Swiggy has become a favorite. Lots of regular discounts on delivered food make it an irresistible choice.
And the simplicity of tracking every step of your order keeps customers hooked to the app.
As it goes with all listing-based businesses, if more people are using it, more businesses want to be listed on the platform. And as more businesses get listed, the platform attracts even more customers.
How does Swiggy make money?
In 2020, Swiggy has 5 revenue sources:
Swiggy Partner Restaurant commissions
In-app Advertising
Delivery charges
The Swiggy Super subscription
Swiggy Access
Let's go over each of them.
1. Swiggy Partner Restaurant commissions
There are no fees to get your restaurant listed on the Swiggy app. There is however a commission that is charged for every order that is placed over Swiggy.
The commission can range from 15-25% + GST and is informed to the restaurant owner during the listing.
If you order food worth INR 1000 from Swiggy, the restaurant receives INR 1000 – 150 (15%) = INR 850. We haven't accounted for any coupon discounts in this calculation.
Considering the amount of money that the restaurant loses per order, why do restaurants still choose to be on Swiggy?
The simple answer is – order volume and visibility
The footfall for a restaurant cannot match the sheer number of people who can browse the application. So instead of earning from 50 customers who can visit the restaurant, they willingly reduce their profits while delivering to ~200 customers online.
2. In-app Advertising
Restaurants that start new on the platform don't gain the required visibility in the initial phases.
Swiggy allows restaurants to feature themselves locally with ads on the application.
The cost of each ad is different based on the locality and potential visits an ad can achieve.
However, as per their ads page, they state that the Swiggy ads platform is designed to fetch 2.5x returns over the ad spend.
Well, if this works outright, a lot of restaurants are happily spending money on the platform.
3. Delivery Charges
This doesn't account for a significant sum, however, it does assist the platform to keep the delivery partners incentivized.
At INR 25 to INR 40 per order based on the order value, and a surge charge of up to INR 100 during bad weather, delivery partners are well incentivized.
Because of better incentives, more people deliver food for Swiggy and ensure that their delivery ratings are maintained high.
Customers continue to receive better service because the delivery partners are held accountable for bad deliveries.
4. Swiggy Super
Swiggy Super is a loyalty program designed to provide an incentive to their regular customers.
Since the delivery fees can add up to a good amount over time, people who regularly order from Swiggy can opt-in for their Swiggy Super subscription program for INR 149 per month.
Swiggy Super benefits include:
Free unlimited deliveries on order value of above INR 149
No surge fees
Surprise offers and discount coupons for members
5. Swiggy Access
Restaurants are limited to the number of locations they can open up and provide food in. Because it's very expensive to open full-fledged restaurants in all locations that they wish to serve, Swiggy came up with the Swiggy Access program.
What is Swiggy Access?
With Swiggy Access, restaurants are offered kitchen space to allow food delivery in a new area. This concept is called a cloud kitchen and allows the restaurant to cook food and deliver it via food delivery apps. It opens up the restaurant to a larger set of customers increasing the revenues for both Swiggy and the restaurant.
Cloud kitchens do not offer dine-in and only allow customers to take away food from the counter.
Swiggy Business Model
Let's go over the Swiggy business model and understand what gives Swiggy the leverage over some of the major food delivery service applications out there.
1. Customer Segment of Swiggy
People who love to eat food at the comfort of their homes
Foodies who want to try out different tastes from home
2. Customer Relationship
24×7 customer support for issues with orders
Active social media pages
On-call support
3. Key Resources
Restaurants and Cloud kitchens
Delivery personnel
Technology to support the website and application
4. Value Proposition of Swiggy
Easy access to food
Fast delivery within <1 hour
The well-designed application makes it easy to navigate
Quick refunds for low quality orders
5. Key Activities
Maintainance of application
Building more restaurant relationships
Marketing to acquire new customers
Offering discounts in collaboration with restaurant owners
6. Fixed and Variable Costs
Fixed salaries for employees and variable payouts for delivery partners
Application maintenance and development costs
Marketing costs
7. Revenue Sources
Swiggy Partner Restaurant commissions
In-app Advertising
Delivery charges
Swiggy Super
Swiggy Access
Swiggy Competitors
| | | |
| --- | --- | --- |
| Company Name | Website | HQ Location |
| DoorDash | www.doordash.com | San Francisco, CA |
| Instacart | www.instacart.com | San Francisco, CA |
| Grubhub (NYS: GRUB) | www.grubhub.com | Chicago, IL |
| FreshMenu | www.freshmenu.com | Bangalore, India |
| Deliveroo | www.deliveroo.co.uk | London, United Kingdom |
| EatStreet | www.eatstreet.com | Madison, WI |
| Just Eat Holding | www.just-eat.com | London, United Kingdom |
| Delivery Hero (ETR: DHER) | www.deliveryhero.com | Berlin, Germany |
| Zomato | www.zomato.com | Gurugram, India |
| Frichti | www.frichti.co | Paris, France |
| Bite Squad | www.bitesquad.com | Minneapolis, MN |
| SkipTheDishes | www.skipthedishes.com | Winnipeg, Canada |
| Petoo | www.petoo.in | Bangalore, India |
| iFood | www.ifood.com.br | Sao Paulo, Brazil |
| Rappi | www.rappi.com | Bogotá, Colombia |
FAQ – How Does Swiggy Make Money and Swiggy Business Model
Is Swiggy profitable?
Yes, Swiggy is a profitable business as of July 2021. Their revenue model relies on a 15-22% commission from any orders that a restaurant processes through the app.
How much does Swiggy earn per order?
Swiggy makes an average of 25% of the order value per order. This amount excludes GST calculations and the rest of the revenue is earned by the restaurant.
How does Swiggy make money?
Swiggy makes money from connecting restaurants with a large userbase. It earns a 25% commission from every order that is processed through Swiggy.
Final words
Swiggy is an interesting new-world business model. As many startups are turning towards service and aggregator-based business, Swiggy is the unicorn that's paving the path for food delivery businesses.
If you're interested in reading about more businesses, don't forget to read through how Discord makes money and the Gmail and Google business models.