CRED rewards users for paying bills through the app. But what is the business model of CRED and how does CRED make money when it's a free app?
CRED Business Model – How does CRED make money?
CRED earns money through offer listing fees. The businesses that list offers also pay a commission to CRED whenever a user purchases their products. CRED's business model includes a second source of revenue through the collection of financial data. They use your data to sell more relevant financial products that earn them heavy commissions.
At the same time, the expenses for the company were at INR 386 crore (INR 3.86 billion).
But CRED recently received funding of $215 million from Falcon Edge Capital and Coatue Management LLP. This has taken CRED's valuation of $2.2 billion in April 2021! While CRED is burning investor money to sustain operations, investors see excellent potential in the company's future.
CRED was founded by Kunal Shah, who's also the founder of Freecharge. And this serial entrepreneurship has gained him recognition as one of the smartest founders in the startup space.
By the end of the article, you'll know:
What is CRED?
How does CRED work?
What is the CRED business model?
How does CRED make money?
Recommended read: How Does Zelle Make Money? [Business Model]
What is CRED?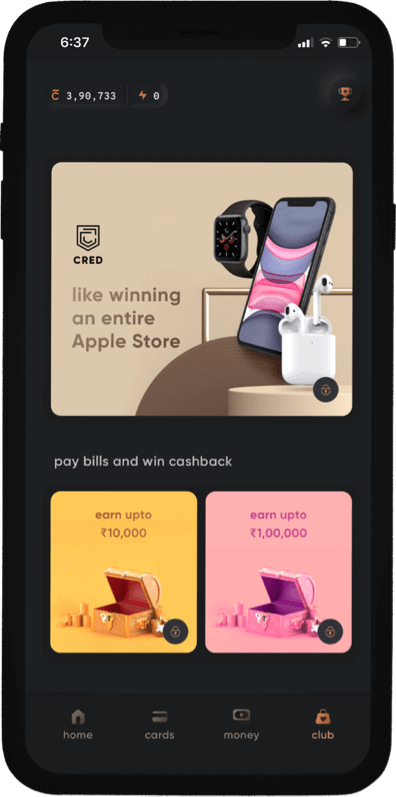 CRED is one of the best applications on the app market that offers rewards to pay your bills through the app.
The app itself is very easy to use and provides a beautiful interface to work with. These rewards range from free products for CRED coins to cashback, and more.
If you are a regular credit card user and pay bills through any other app, you can use CRED to earn great rewards.
Also read: How does BharatPe make money?
How does CRED App work and make money?
CRED partners with businesses to provide the offers. The businesses gain traction and visibility on a platform where people are already spending.
In return, CRED gets more offers for display on their application.
This, in turn, gets visitors more reason to join and pay their bills through the app.
You may also like: Binance Business Model: How does Binance work and make money?
What is the CRED business model?
CRED operates on a passive business model where they generate revenues without much overhead.
There are three parts of the business model of CRED:
Customers who pay credit card bills
The CRED app
Businesses who provide offers on the app
1. CRED's Customers
People already pay their credit card bills using payment apps or directly from their bank.
With CRED, they get more benefits for performing the same activity of paying their credit card bills through the app.
As more people use CRED to earn benefits, they share them with more of their friends and family.
2. The CRED App
Though some people find it clumsy, the CRED app has a beautiful UI and UX design. Users sign up on the app and can see all the available offers on paying their credit card bills.
As you continue to pay bills, you accumulate CRED coins which you can redeem for the rewards.
3. Businesses That Display Offers on CRED
To provide these offers, CRED has to bring businesses on board and form tie-ups with them. Businesses young and old benefit from the visibility they gain on the CRED app as the userbase is buyers from all walks of life.
Recommended read: How does WhatsApp make money?
How does CRED make money? – Business and Revenue Model of CRED
CRED makes money in two ways:
Product and Offer Listing Fees
User's financial data
1. Product and Offer Listing Fees
CRED displays the products and offers from businesses that have paid a fee for their Discover platform. There are offers from fashion retailers, to spas, to Amazon gift cards, and much more.
These offers give their users a variety of rewards to pick from. And in turn, it draws more user attention.
Every time a user picks an offer by redeeming the CRED coins from the app, the business pays fees to CRED for sending the business to them.
This is the main source of revenue for CRED at present.
2. User Financial Data
As you continue to pay bills and use the app, CRED collects your financial data to offer you better offers in the future. This is their second source of revenue.
Financial institutions are always on the lookout for the most viable customers for their credit cards, loans, and other products.
CRED users are frequent consumers and highly relevant for financial institutions – young, tech-savvy, and frequent buyers of products.
Banks and credit card companies pay CRED to get access to the data or advertise their products directly to these customers.
Also read: How does Shopify make money?
Summary of the CRED Business Model
The CRED business model is similar to that of Nearbuy.
They partner with businesses to display offers on the app. In return, the users who redeem CRED coins as offers become customers to these businesses.
As more credit card users join the app, more targeted financial data is available at their disposal.
Financial institutions like banks and credit card companies profit from such deep targeting with a lower cost of customer acquisition.
Also read: How does Zerodha make money? [Business Model]
Frequently Asked Questions (FAQ)
Let me answer some of the questions about CRED as a business.
Is CRED Profitable?
According to entrackr, CRED has recorded zero revenue in the financial year 2019. The only income was the INR 3.03 crore generate from interest on their deposits. The company's overall cash burn stood at INR 64 crore.
How does CRED make money?
CRED makes money by charging a listing fee for products and offers that businesses wish to display to the app users. The financial data collected from users is also made available to financial institutions to pitch additional relevant offers.
What is the CRED business model?
Currently, the CRED business model relies on making revenues through the income from offer listing fees from businesses. The potential for the data collected from the app seems to be a viable monetization opportunity in the future for lending-based services.
Is the CRED app approved by RBI?
Yes. When you go through the registration process on the app, you are required to complete a set of KYC and credit-related review steps which involve the RBI. Without their involvement, the app cannot function to check your credit scores and access your personal data.
Is CRED free?
CRED is a completely free app for all credit card users to pay bills from. In return for paying bills, you are rewarded with cashback and rewards from different businesses.
Conclusion
Kunal Shah is one of the most popular entrepreneurs in the finance startups space. He has also founded freecharge which is a great free bill-payments application for general category purchases.
Read more business models by starting with the Google business model.