Zerodha is the most well-known discount broker in India. They shook the entire industry in just a few years since inception! But, how does Zerodha make money? They offer zero brokerage long-term/delivery trades and a fixed maximum brokerage of ₹20 for intraday trades. Compare with the full-service brokers, that's negligible.
Let's dig deep into Nithin Kamath's successful venture, Zerodha today.
How does Zerodha make money?
Zerodha makes money by charging brokerage fees, especially on Futures and Options trading. High-volume traders use Zerodha for its speed of trade execution which increases the number of transactions per second. And this increases the earnings from brokerage.
With this model, the trading platform Zerodha generated ₹950 crores in the financial year 2020. Their unique business strategy lets Zerodha earn maximum profits with minimal Capex.
About Zerodha
Zerodha kick-started operations on the 15th of August, 2010 by Nithin Kamath, with the goal of breaking all barriers that traders and investors face in India in terms of cost, support, and technology.
They named the company Zerodha, a combination of Zero and "Rodha", the Sanskrit word for "barrier".
Now, their disruptive pricing models and in-house technology have made them the biggest stockbroker in India in terms of active retail clients.
Their powerful and robust trading systems power over 15% of all trades across exchanges in India.
Nithin also wanted to ensure that retail investors in India are well informed and take trades with the right knowledge. As such, they launched a very comprehensive trading and investing guidebook that also helps you build a trading strategy – Varsity – absolutely free for all (even non-clients).
They then moved to launch their free mutual fund investment platform – Zerodha Coin!
Also read: How does BharatPe make money?
How does Zerodha make money?
By the look of it, Zerodha makes pennies. But day trading is highly profitable for most brokers. Here's what they charge from their 4+ million clients.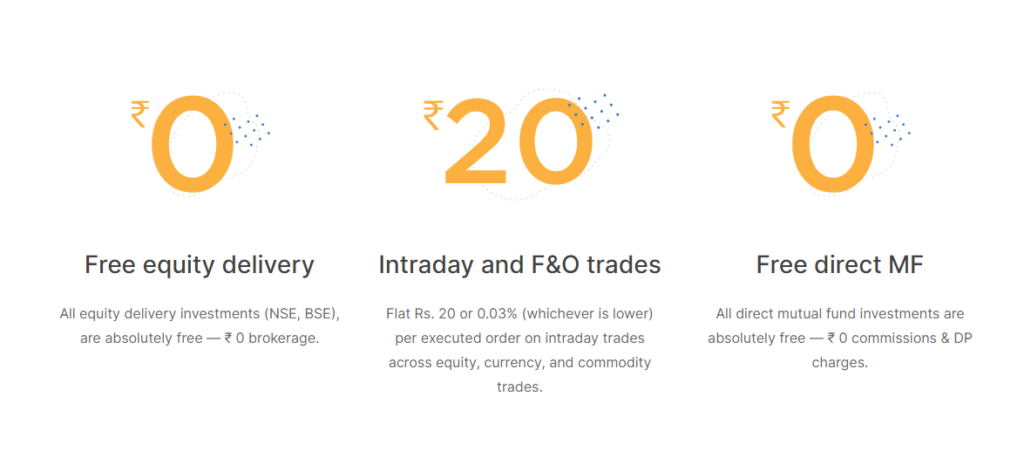 1. Charges a flat fee on intraday and F&O trades
Yes, Zerodha charges a commission on all intraday trades. But, in comparison to full-service brokers that charge a percentage of the trade value, Zerodha limits its brokerage.
They charge a maximum brokerage of ₹20 per transaction irrespective of how large the transaction is.
2. High volume of transactions
Their business model relies on the number of transactions on the platform. Instead of charging more per transaction, they focus on building a great product so more clients are attracted to trade on it.
So they earn ₹20 on the millions of transactions that occur daily. Multiply that, and you'll see the power of Zerodha's business model.
3. Startup incubation
Rainmatter is Zerodha's incubator that has launched server successful startups in the fintech industry.
Here is a list of all the startups that Rainmatter incubated or invested in and that have been successful!
Smallcase – India's first thematic investment platform
Streak – The first end-to-end platform in the world to create, backtest, and deploy trading algos without coding
Tradelab – Builds cutting-edge technology to drive capital market businesses
CRED – A members-only app that offers you exclusive rewards for paying your credit card bills.
LearnApp – Courses in Investing, Trading, Technology & Management taught by industry experts first-hand!
And there are many more. You can view their complete list of investments on their homepage. As we all know, that most startups fail. However, seems like all the startups that Zerodha has either invested in or incubated and mentored have flourished to attain great success to be known!
4. True Beacon and Mutual Fund AMC
Zerodha launched its first alternative investment fund in 2019 named True Beacon. The fund was built to tackle the volatility of the markets for high net worth individuals (HNIs) with a minimum investment of $2 million. And in its first year, True Beacon generated a 13%+ return.
Because of the success with True Beacon, Zerodha has also applied for a mutual fund AMC license and aims to launch its own diversified fund portfolio in the coming time.
The fees generated by True Beacon also become a significant part of Zerodha's revenue sources.
Recommended read: How Does Zelle Make Money? [Business Model]
Zerodha's No Marketing Strategy for Higher Profitability
One of the most powerful strategies that Nithin Kamath applied was the "No-marketing" strategy.
He said that he wanted to create a product so good that people do the marketing.
And true to this plan, Zerodha launched the lowest brokerage on a large scale. It shook full-service brokers by providing even better service at negligible rates.
Traders started raving about this brokerage slash. And Zerodha's onboard is extremely streamlined where (during the initial phases) a representative would collect the documents and complete the account opening process for you.
Now, since the entire process has moved online, there is simply no friction for most users.
In my personal experience using Zerodha of over 7 years now, I'm yet to make a single complaint. And their recently launched Kite trading platform is mind-bogglingly good!
This is certainly a product worth talking about and you'll see that most of the new traders use no other broker than Zerodha.
1. Zerodha's Affiliate Model for Promotion
To encourage users who were already talking about Zerodha to continue promoting their services, they launched a recurring affiliate model.
Any user who signs up to Zerodha using an affiliate link is automatically added under the affiliate's account.
10% of all the brokerage amount generated from referred users goes to the affiliate. And this continues for as long as the referred user trades in the account.
And so, Zerodha gained the free publicity that it required!
2. Zerodha's low-cost franchise operations
Another way Zerodha saved money was by franchising its outlets. Instead of owning the outlets, Zerodha allowed members to start their own Zerodha franchise and help new users create and set-up accounts.
In return, the franchise owners were allowed to charge a commission over and above the account opening charges + make commissions on brokerage like an affiliate.
So as of this writing, Zerodha's account opening charges are ₹300. A franchise owner can decide to charge ₹1,000 for completing the account opening process for their customer.
The ₹700 is the franchise owner's commission. On top of that, they get to become the affiliates of those new accounts.
And finally, this gives Zerodha word-of-mouth publicity as franchise owners would want to grow their businesses too.
3. Minimal overheads for lower expenses
Zerodha needs very few employees. Most of its employees help support their customer queries on calls and on their support ticketing platform.
Apart from that, they have a few subject matter experts who write on their blogs on trading and investing-related topics.
FAQ
Is Zerodha really free?
Yes, delivery trades and investments in mutual funds are absolutely free on Zerodha since 2018. Zerodha only makes money from the active traders on its platform.
Can we trust Zerodha?
Zerodha has been in business for the last 10 years with 4+ million clients across India. Zerodha is a genuine and trust-worthy stockbroker like ICICI Direct, Axis Securities, and others.
Is Zerodha better than Sharekhan?
If you are a high volume trader, Zerodha's low brokerage will be highly beneficial to you in reducing the charges for every trade you make thus increasing your profitability.
Which is better Zerodha or Groww?
Zerodha is an all-in-one platform that allows you to invest in direct mutual funds with absolutely no charges unlike Groww. The reason being that Zerodha generates enough revenue from its active trader-base to let go off any commissions from the infrequent mutual fund investments.
Is Zerodha good for beginners?
Zerodha has a beautiful UI and is very user-friendly. A great platform for beginners if you ask me.