In the era of digital transformation, numerous companies have emerged, leveraging technology to disrupt traditional business models and reshape various industries. One such company is Turo, a peer-to-peer car-sharing platform that has revolutionized the car rental industry.
How does Turo make money?
Turo makes money by charging trip hosts a commission of around 25% on each rental transaction. Guests are also charged a trip fee between 2.5% to 100% of the trip price depending on the Turo Risk Score with a minimum of $15. Apart from this, Turo generates revenue from protection plans and the Turo Go technology, which allows instant booking and unlocking of cars.
This article provides an in-depth look at Turo's business model, exploring how the company generates revenue and its strategies to maintain its market position.
Turo Company Overview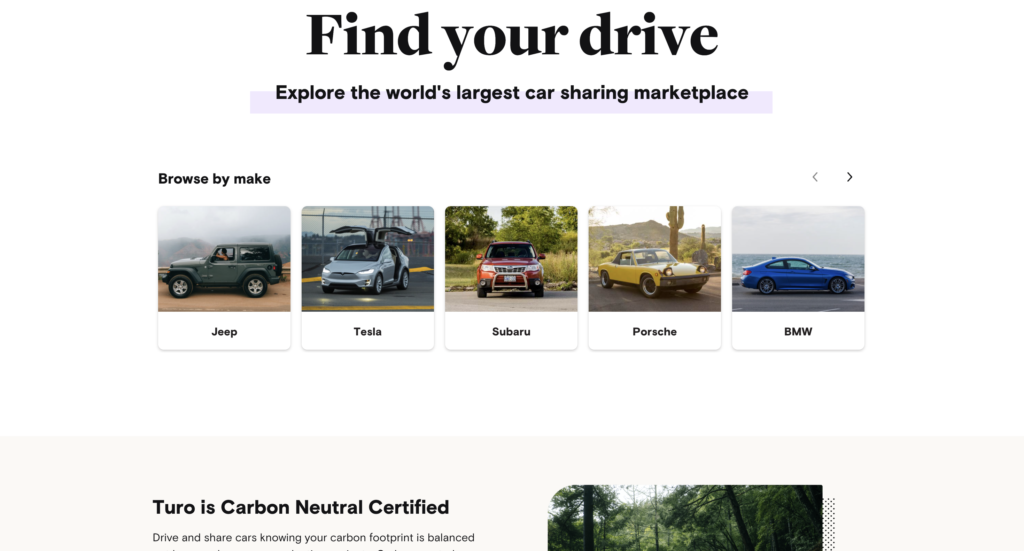 Founded in 2010 by Shelby Clark, Nabeel Al-Kady, and Tara Reeves, Turo, initially known as RelayRides, has grown to become a leading player in the car-sharing industry. The San Francisco-based company operates on a peer-to-peer model, connecting car owners willing to rent out their vehicles with individuals seeking short-term rental services.
Turo's growth has been remarkable. The company boasts 85,000 active hosts and 160,000 active vehicle listings in over 7,500 cities as of September 30, 2021. The company's success has attracted significant investment, with InterActiveCorp (IAC) investing $250 million in venture capital funding in 2019, making IAC Turo's largest shareholder.
In January 2021, Turo's CEO announced plans to take the company public, further highlighting the company's growth and success. However, Turo's journey has not been without challenges. The company has faced criticism for crowding out street parking in busy urban areas and has been accused of unlicensed insurance activity in New York.
Despite these challenges, Turo has remained resilient, continuously innovating to improve its services and offer a unique value proposition to its users. The company's success story offers valuable insights into the potential of digital platforms to disrupt traditional industries and create new growth and revenue generation opportunities.
Also read: Ola Business Model: How Does Ola Make Money?
Understanding Turo's Business Model
Turo operates on a peer-to-peer car-sharing model, which is a form of collaborative consumption. This model is based on the idea of sharing underutilized assets, in this case, vehicles. Car owners, referred to as 'hosts', list their vehicles on the Turo platform, setting their rental prices and availability. Individuals seeking to rent a car, known as 'guests', can then browse the available vehicles and book one that suits their needs.
Turo allows for a wide range of vehicles to be rented, from everyday city cars to luxury vehicles and even vintage cars. This variety sets Turo apart from traditional car rental companies, which typically offer a more limited selection of vehicle types.
Turo's business model is also characterized by its use of technology to facilitate transactions. The entire process of listing, searching for, and booking a vehicle is done through the Turo app or website. This digital approach reduces overhead costs and allows for greater scalability compared to traditional car rental businesses.
Importantly, Turo's business model also includes insurance coverage for both hosts and guests, providing protection against potential damages or accidents. This insurance aspect is crucial in building trust within the platform's community and encouraging participation.
Turo's business model has been successful in disrupting the traditional car rental industry. However, it's not without its challenges. As with other sharing economy platforms, Turo has faced regulatory hurdles and criticism related to its impact on communities and industries. Despite these challenges, Turo's innovative approach to car sharing has positioned it as a significant player in the sharing economy.
Also read: Top 25 Best Car-Sharing Startups With $10+ Million Funding
How Does Turo Make Money?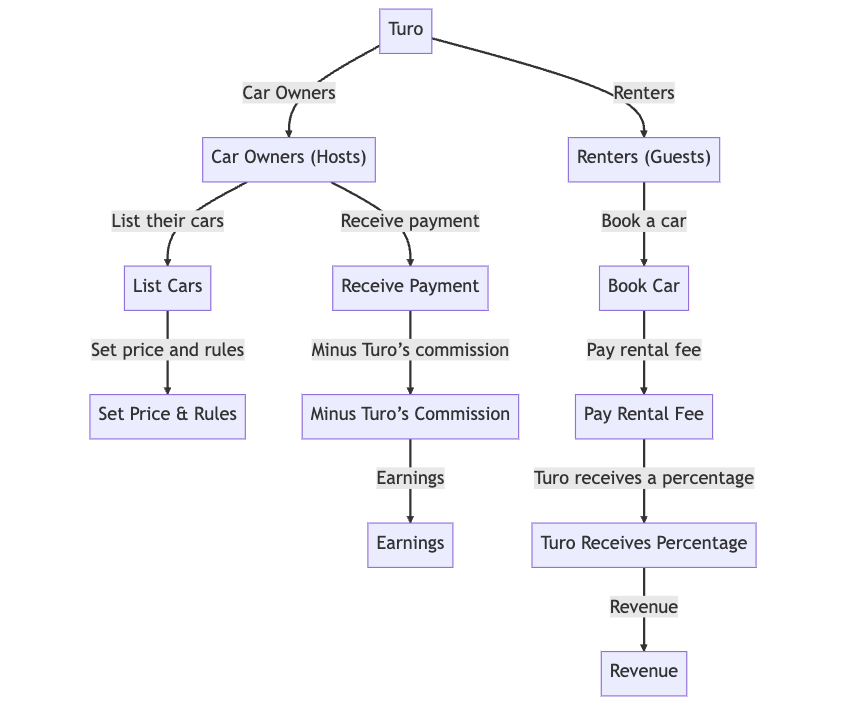 Turo is often referred to as the "Airbnb for cars". It allows car owners to rent out their vehicles when they're not in use. This business model has been a game-changer in the car rental industry, providing an alternative to traditional car rental services. But how does Turo make money? Let's delve into the details.
Commission from Hosts
One of the primary ways Turo makes money is by taking a commission from the hosts. When a car owner lists their vehicle on the platform and it gets rented out, Turo takes a percentage of the rental price as their revenue. While I could not find the exact amount, it seems to hover between 20 and 25%. You an also check the other fees that Turo charges hosts.
Trip Fees from Guests
In addition to the commission from hosts, Turo also charges guests a trip fee. Turo's take rate is between 2.5 to 100% of each booking in the US with a minimum of $15. The percentage fee is decided by the Turo Risk Score which is a proprietary algorithm for calculating the risk of a buyer. If the guest chooses to pick up the car at the owner's location, a delivery fee may also apply.
Protection Plans
Turo offers various protection plans that host and guests can choose from. These plans provide different levels of insurance coverage during the rental period, and Turo earns revenue from the fees associated with these plans. Turo offers liability insurance that covers damages of up to $750,000 for both the owner and the customer.
Turo Go Technology
Turo has also introduced a feature called Turo Go, which allows guests to book and unlock cars instantly via the Turo app. Car owners who opt to use Turo Go technology in their vehicles are charged a fee, contributing another stream of revenue for Turo.
The Sharing Economy and Turo's Future
Turo's business model is similar to other peer-to-peer sharing platforms, but it's unique in the sense that it's specifically designed for car rentals. This model allows individuals to monetize their vehicles when they're not in use while providing guests with a more personalized and diverse selection of rental options compared to traditional car rental companies.
The sharing economy, and Turo's place within it, is a topic of ongoing research and debate. Some envision a future where such platforms are cooperatively owned and under democratic control. Others foresee a future dominated by monopolistic super-platforms offering seamless services. The implications of these potential futures for Turo and its users remain to be seen.
Lessons from Turo's Success
Turo's success story offers valuable lessons for entrepreneurs and businesses. The company's innovative approach to car sharing has not only disrupted the traditional car rental industry but also created a new way for car owners to generate income. Here are some key takeaways from Turo's journey.
Solving a Real Problem
One of the key factors behind Turo's success is its ability to solve a real problem. The company was founded on the premise that many cars are underutilized, sitting idle for most of the day. By creating a platform where car owners can rent out their vehicles when they're not in use, Turo provided a solution to this inefficiency. This lesson is crucial for any business: success often comes from identifying and addressing a real problem that consumers face.
Leveraging Technology
Turo has effectively leveraged technology to facilitate peer-to-peer car sharing. The company's app makes it easy for car owners to list their vehicles and for renters to find and book cars. This seamless user experience has been a significant factor in Turo's growth. The lesson here is that technology can be a powerful tool for improving customer experience and driving business growth.
Building Trust
Trust is a critical component of Turo's business model. The company has implemented various measures to build trust among its users, including a robust review system, comprehensive insurance coverage, and 24/7 roadside assistance. These measures have helped Turo establish a trusted platform for peer-to-peer car sharing. For businesses, building trust with customers can be a key driver of success.
Adapting to Market Needs
Turo has shown a strong ability to adapt to market needs. For example, the company introduced Turo Go, a feature that allows guests to book and unlock cars instantly via the Turo app, in response to the growing demand for instant booking. This adaptability has allowed Turo to stay ahead of the competition and continue growing. The lesson for businesses is to stay flexible and responsive to changing market needs.
Effective Marketing
Turo has used effective marketing strategies to promote its platform and attract users. The company has leveraged various marketing channels, including social media, influencer marketing, and PR, to reach its target audience. This multi-channel marketing approach has been instrumental in Turo's growth. For businesses, developing and implementing a comprehensive marketing strategy can be key to reaching potential customers and driving growth.
Conclusion and Final Thoughts
Turo's innovative approach to car sharing has revolutionized the way people rent cars. Leveraging technology, building trust among its users, and adapting to market needs has allowed Turo to create a successful business model that not only benefits car owners and renters but contributes to a more sustainable future by reducing idle cars.
The lessons from Turo's success are applicable to any business. Solving a real problem, leveraging technology, building trust, adapting to market needs, and effective marketing are all crucial elements of a successful business. As we move towards a more collaborative and sharing-based economy, businesses that can incorporate these elements into their operations will be well-positioned to succeed.
As we conclude, it's clear that Turo's approach to making money is a reflection of its innovative business model and strategic planning. The company's success serves as an inspiration for other businesses in the sharing economy and beyond.
As the world continues to embrace the concept of sharing and collaborative consumption, the question is not just about how Turo makes money, but also about what you can learn from this business model.