Ola, one of the leading ride-sharing companies in India, has a unique business model that has set it apart from other players in the market. In this article, we will take a look at how Ola makes money and how its business model works.
How does Ola make money?
Ola earns money through ride commissions, Ola money, advertising, and Ola Credit Card. It charges a 20% to 30% commission for every ride booked through its app. The commission is charged based on the total cost of each ride and is collected directly from drivers. Ola also earns money from its car leasing partnerships and Ola electric scooters.
Also read: How Does Klarna Make Money? [Business Model]
History of the Ola Business Model
Ola, the most used ride-sharing company in India, was founded in 2010. It has more than 100 million registered users in 110 cities across the country.
Ola was founded by Bhavish Aggarwal, an Indian Institute of Technology Bombay graduate, who began working on his idea in 2008 to solve a problem he faced while trying to get home late at night after attending a conference in Bangalore. He couldn't find a cab to return and that is how he realized the need for a better transportation system in India.
The idea was good enough to attract investors, but nobody wanted it initially as they thought there was no money in this sector but Aggarwal didn't give up. And in 2010, Aggarwal and Ankit Bhati founded Ola.
The company started off with just three employees and a few hundred cabs in Bangalore. From there, it rapidly scaled up its operations across the country. In 2013, Ola raised $210 million from SoftBank Corp., becoming one of the largest Series A rounds of financing in the history of consumer Internet space.
Ola joined hands with Microsoft to build artificial intelligence and machine learning capabilities for its mobile app, which will be powered by the Azure cloud platform and help create a better transportation experience for all its users.
The alliance with Microsoft will also help Ola develop a deeper understanding of customer needs and preferences, as well as identify new areas for innovation. In the near future, the company plans to roll out features like multi-modal experiences (combining public transport with ride-sharing) and autonomous cars.
Also read: How Does GetUpside Make Money? [Business Model]
How Does Ola Make Money? – Revenue Model and Sources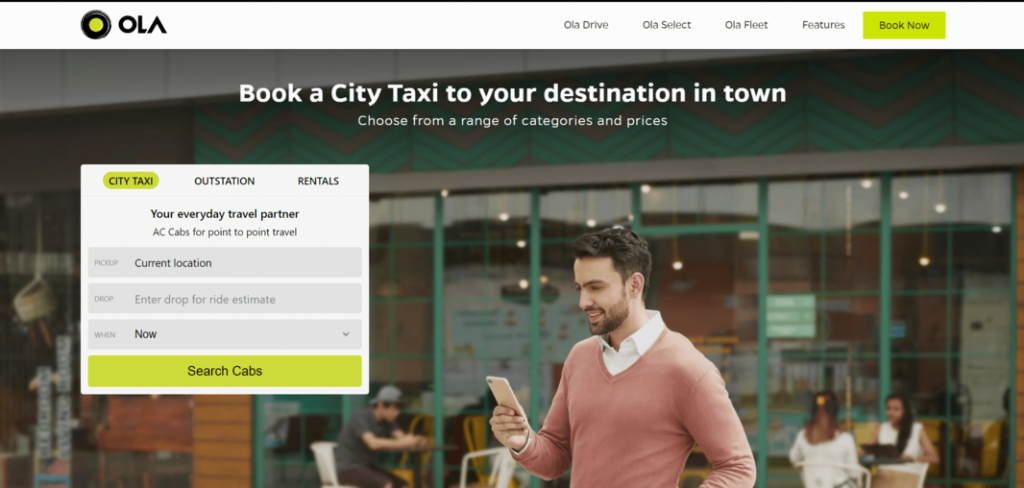 Let's now discuss the major sources of revenue for Ola and how it works to optimize them for maximum profits. Ola while much smaller than Uber in sheer valuation, stands head to head against the competitor in India. Both these companies take up almost 50% of the ride-sharing market each.
So what makes Ola stand out today? This lies within the revenue figures and the partnerships.
Here's how Ola Cabs makes money.
1. Ride Commissions
The #1 source of income for Ola is through its ride commissions. This part is similar to how other ride-sharing businesses operate, including Uber.
Ola charges a 20% to 30% commission per trip to the drivers. This accounts for a majority of Ola's profits in 2022.
Here are the different fees that Ola charges:
The Actual Time of the Ride: For calculating the total fare, the time from the pick up to the drop site is taken into account. The entire ride is calculated in a matter of seconds.
Wait time: When a customer orders and pays for a service, but does not show up within the agreed-upon time frame, the waiting fee will be charged.
Ola Prime Play: They charge a convenience fee for the cabs, which offer in-cab entertainment. If you select a pickup and drop off at the airport, this is charged to you by the customer..
Toll & Parking Fee: This is dependent on the toll junctions traveled and the car parking service utilized.
Cancellation Fee: If a passenger cancels a journey, Ola charges a cancellation fee. Service tax, as well as various taxes, are included in the overall cost of transportation.
Also read: How Does Houzz Make Money? [Business Model]
2. Ola Credit Card
Ola has partnered with SBI bank to launch its Ola SBI Credit Card. This is a lucrative credit card for every regular Ola user as it offers a fixed 7% cashback on every ride with no upper limits.
The cashback is then credited back to your Ola money wallet which you can use for future rides or pay for other products which accept Ola money wallet payments.
The Ola Credit Card helps the company gain additional revenue from late fees, interest charges, EMI convenience fees, and others.
3. Advertising on Cabs
The launch of the Ola Prime Sedan opened up a new way to digitally advertise within the cabs. Ola partners with large brands like Microsoft, Apple Music, Sony Digital to offer in-cab entertainment through the tablets fitted in the cars. Along with that Ola also allows banner advertising on their leased cabs increasing the revenue generated through each cab.
4. Ola Cab Leasing
There is an upfront charge of Rs 4000, as well as non-refundable and refundable security deposits ranging from Rs 21,000 to Rs 31,000. In addition, a daily fee of Rs 700 -1150 is charged to the drivers for operating the vehicle, with travel fare revenue going to the driver. During the COVID lockdown in 2020, Ola waived off the lease payments for all cab drivers to ensure they are able to recover from the losses during the lockdowns.
5. Corporate Partnerships
Ola partners with large businesses to offer cab services to its employees. The rides that employees avail are counted against the company's account. In return, the partnering company is charged lower tariffs while Ola gets higher sales volumes from these businesses.
6. Ola Food Delivery
This service is one of the newest entrants of Ola. After acquiring the Indian business of FoodPanda for $200 million, Ola started its own food delivery service right from the app.
While it has limited options at the moment, Ola Food is an additional revenue source that the company aims to capitalize on in the future.
7. Ola Electric
Ola Electric scooters are one step towards clean fuel transportation. The prices of these scooters start from INR 100,000 (INR 1 lakh). The company is working on building enough charging stations so you never have to worry about where the next charge will come from.
After purchase, charging will be free at the Ola charging stations for the first 6 months after which you can pay a nominal fee for charging right from your Ola Electric app.
Also read: How Does Turo Make Money? [Turo Business Model]
Ola Marketing Strategy – How Ola Gained Market Share in India
India is one of the few countries where getting around can be quite a hassle. Mass urbanization is on the rise and so are new businesses that provide goods and services to this large group of urbanites. Taxi-hailing apps like Ola Cabs help commuters find their ride easily. It has all the right components that make it stand out from the competition.
Ola is a mobile app-based transportation network company whose headquarters are in Bangalore, Karnataka. It was founded by Bhavish Aggarwal and Ankit Bhati in 2010. Though Uber gained immediate market share with its huge marketing budget, Ola lagged behind.
From then on Ola started capturing market share further and beyond to now become the leading cab service provider in India. Estimates suggest that Ola may have a 75% market share!
How did it achieve such a huge success?
1. Pull Customers With Discounts and Offers
The first step that Ola took was to pull customers in with regular discounts and offers. Instead of offering a first-time-only discount, Ola started offering first, third, fifth, and seventh ride discounts.
This helped them keep customers on while they focused on building other forms of marketing to pull customers in.
2. Affiliate Rewards
Ola began rewarding users to bring their friends on board. They offered free rides, money that's credited automatically to their next ride, or discount coupons for both users.
The company continued to test out different ways to keep things new, and also keep users interested in sharing the app with as many users as possible.
This pushed the word-of-mouth marketing for Ola.
3. Lucrative Rewards for Drivers
Initially, drivers were offered daily incentives, a lot of rewards, and benefits for riding with Ola. They were guaranteed a fixed specific amount every day if they do not get any ride assigned. Apart from that, Ola drivers were also rewarded when they completed a certain number of trips per day.
These alone made it worth it for the drivers to jump onto the Ola ship and earn as much as possible. During the good ol' days, drivers easily made INR 100,000 per month! That was more than many software developers!
4. Lower Pricing
India being a price-sensitive market when it comes to alternative services, Ola took up this opportunity to slash the prices as much as possible.
5. Higher Availability
Cabs in Ola are almost always available. If you are in a location where Ola serves, you're highly likely to find a cab to travel. While Uber focused on improving its variety of cars, Ola fixed the main issue of not having a cab when required.
6. Building the Ecosystem
As with every company, Ola focused on building products that captured users into the ecosystem. With the introduction of financial products like Ola Credit Card, Ola Money, and Ola Postpaid users would end up using Ola for the benefits these services offered.
Along with that, Ola's outstation services are one of the best in terms of pricing, accessibility, and ease of use. So users who wanted to travel out of town would automatically choose Ola.
How does Ola make money?
Ola makes money by charging a flat 20% to 30% commission on every ride that users avail through the app.
Is Ola Profitable?
Ola announced an operating profit of Rs 89.82 crore for 2020-21 even though its income fell by over 65% during COVID-19 closures. According to reports, Ola is considering an IPO that could raise over $1 billion in the next few months.
How much does an Ola driver earn?
Depending on the number of rides and the type of car they drive, Ola drivers can earn anywhere from INR 30,000 to INR 80,000 per month!
What is the business model of Ola?
The Ola business model takes into account three of its strengths: the drivers, the riders, and the technology. With a powerful combo of all three, the business model has succeeded in capturing market share with ease.
Conclusion
And that brings us to the end of this article about how does Ola make money. Ola has a very strong business model due to its understanding of the Indian customer. Two IIT members who started out to solve their own problem have now created a business worth billions of dollars that serves Indians every day!
The Ola business model is worth understanding in-depth if you want to see what a product-market-fit and ecosystem building looks like!
If you like this article, you may also like: How does Gmail make money? [UPDATED]