Nearbuy is a free website that offers discount codes. But how does Nearbuy make money and what is the Nearbuy business model? Let's take a deep dive into it and understand where they are making money from.
How does Nearbuy make money – Summary of the Nearbuy business model:
Nearbuy strikes a deal with local retailers and service-based shops like spas, salons, etc.
Retailers offer to discount their prices to get listed on the website
Nearbuy makes most of their money by charging 2% to 25% of the sale amount as a commission
In return for offering such huge discounts on the platform, the retailers get a large volume of sales
They also accept ads on the website which add to the revenues of the company
What is Nearbuy?
Nearbuy is one of the very popular discounts and coupons websites in India with amazing deals throughout the year. The website itself is very easy and self-explanatory – You visit the website and select the location.
After that, you'll be shown all the offers from around your location and you can browse through the recommended offers, or simply search for things to do, eat, or buy.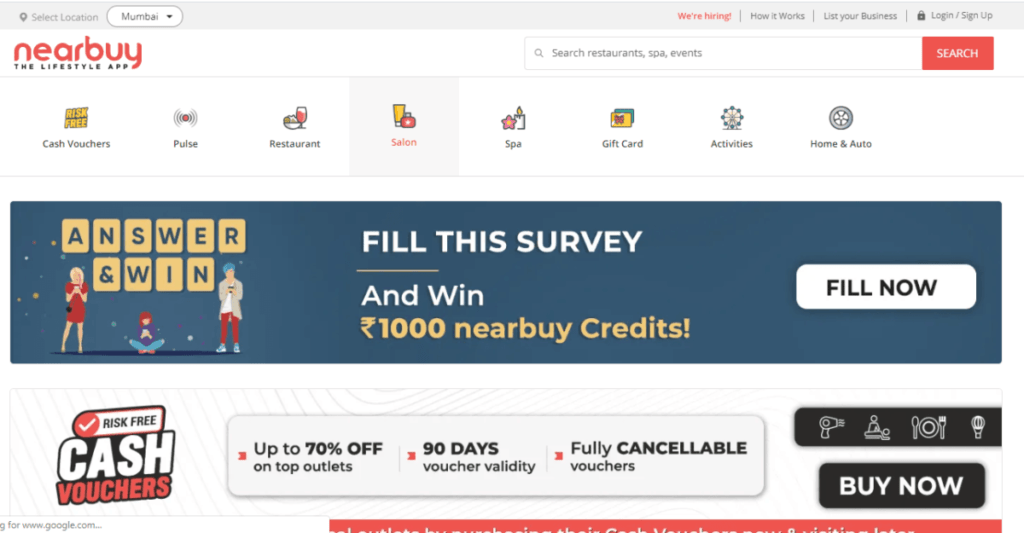 You then pay the discounted price on the website and show the order number/confirmation code to the vendor when you purchase the same item. So because of this code, you can end up saving 50% or more on retail prices even if the restaurant doesn't have any active discounts! How cool is that!
I, for one, have used Nearbuy a lot, and before getting into this "online business" kind of thing, have always wondered how does Nearbuy make money?
It is a valid question because if you see the website, it seems like the website owners are simply finding discount codes from across the internet and giving them away for free (see: Nearbuy Wikipedia page). So how could such a website make any money whatsoever? You don't see too many ads on the website either so that option is ruled out.
That's where my curiosity popped in and made me want to answer this question. Let's dive right into the Nearbuy business model here.
Breaking Down the Nearbuy Business Model
As we've already seen in a previous article on what is a business model, we will break down the entire business into small parts and understand how does Nearbuy make money?
We'll break down the Nearbuy business model into these sections:
What is Nearbuy's business?
Who does it solve the problem for?
How does Nearbuy make money by offering the solution?
Recommended read: How does iBotta make money?
1. What is Nearbuy's Business?
Businesses need customers, and people want to explore new places and be part of things that are happening around them.
But a lot of these "happening" places are quite expensive and most of the younger generations get stuck in a FOMO situation when they see their friends posting pictures of them visiting such places.
Nearbuy comes in and says "Let us give you a discount for visiting the place through us".
Now, who doesn't want to get a discount? If I was planning to spend on a product or service anyway, and someone gives me a 50% off, I am taking it.
This is the need Nearbuy is fulfilling for people. The company has tapped into a very basic human need – Social validation – and built a complete business around it.
And here's the best part: Once a business fulfills a human need vs want, there's no way the business is going to fail.
2. Who are Nearbuy's Customers?
Because Nearbuy is able to tap into a human need, their customer segment broadens up by a lot. Almost all people on the planet can make use of Nearbuy without wondering if they really "need" to use the service.
There are still segments of the population who would be significantly more likely to use Nearbuy:
College students
People who've started working in a job recently
Party lovers
Foodies
3. How Does Nearbuy Make Money?
Let's come down to the question: "How does Nearbuy make money?". If all the services are free, the customers are charged nothing, and neither are the retailers charged anything to get listed on the platform, how is Nearbuy earning revenues to keep the business going?
Have a look at the merchants registration page on Nearbuy.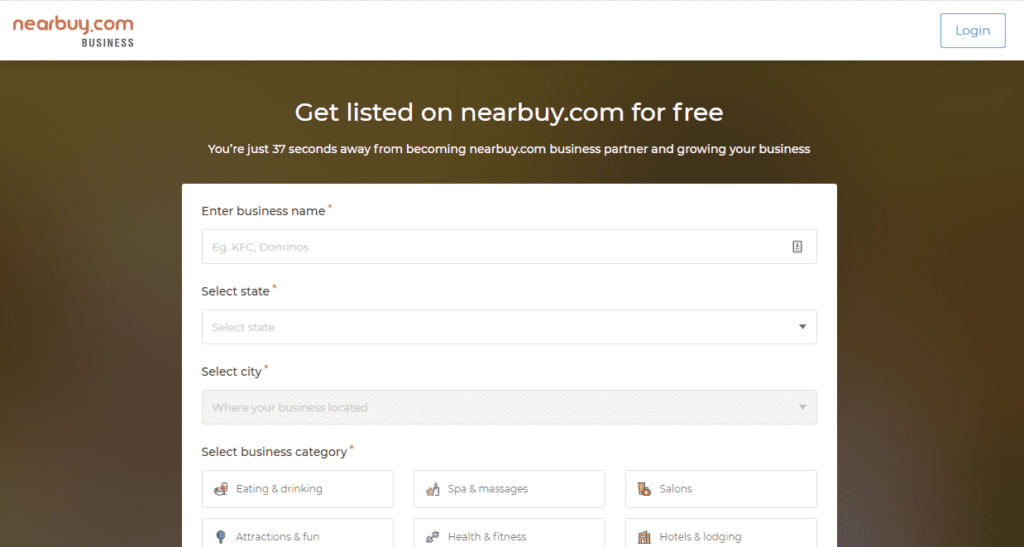 Let's take a look at Nearbuy's revenue model. Since this is one of the simplest business models, we can easily understand how they make their money. Let's see how and why businesses come on board the platform and how the Nearbuy platform benefits customers.
So here's how Nearbuy makes money:
As a "discounts" website, Nearbuy strikes great bargains with the companies that register themselves on the platform.
Now, these Nearbuy-specific deals and bargains can be as low as 50% off the retail price.
With such cheap prices, the retailers get orders in huge volumes
To avail the offers, customers need to purchase the product/service from Nearbuy's platform and then display the code to the vendor to avail the product/service
Until the product or service is availed, Nearbuy maintains the money as free-float and earns interest (another business model that includes free-float is Sodexo business model)
Once the product/service is availed by the user, Nearbuy transfers the money to the vendor after deducting a commission of 2% to 25%
At present, Nearbuy sees 61,000 monthly organic visitors(source: SEMrush), all of whom are users searching for coupons, services, or events nearby so it's safe to assume a higher than average customer conversion rate.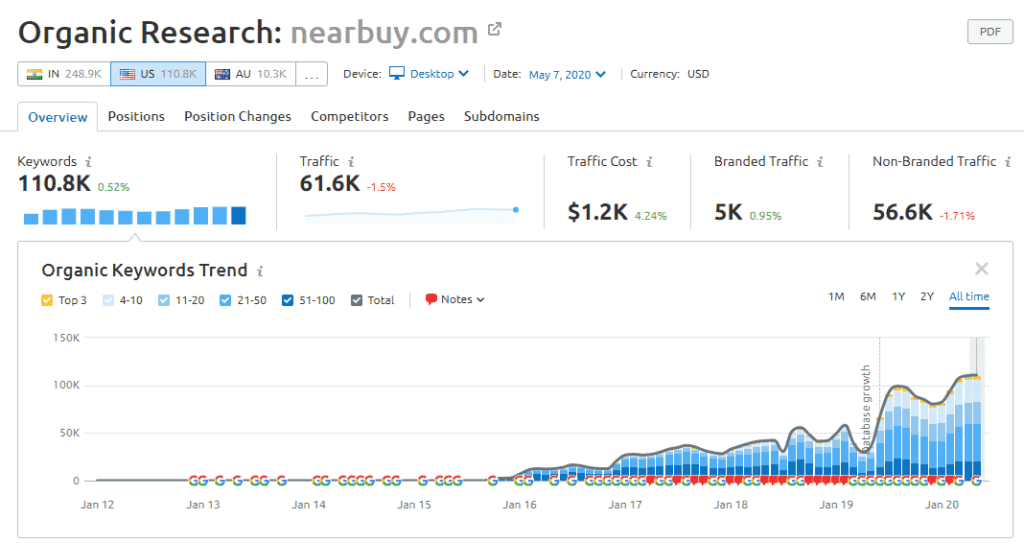 The commission that Nearbuy charges from businesses registered on their platform range from 2% to 25% of the total transaction cost depending on the type of business in question and the volume of transactions they generate. With a targeted set of customers visiting their website, businesses receive a huge amount of attention, and Nearbuy earns a significant commission
4. How Much Money Does Nearbuy Make?
Being a private company, they're not obligated to publish their financial data. But from a news source, I found that their 2018 annual revenue was USD 7,000,000. The most current annual revenues are hovering in the range of USD 4 to 5 million.
5. Nearbuy's Investments and Investors
PayTM acquired Nearbuy in 2017(Source: Techcircle) along with the Little app (because little had surplus cash reserves of over USD 17 million). Prior to PayTM, Sequoia and Groupon held controlling stakes in the company.
The merger between Nearbuy and Littleapp was also a strategic decision for PayTM to stay relevant. The idea behind this acquisition was simple: if PayTM can show up for relevant deals for customers, more people are likely to opt for using the PayTM payments gateway.
Conclusion
That's about it for the Nearbuy business model. I hope I was able to answer your question about how Nearbuy makes money. Stay tuned for a lot more articles on business models here. If you already haven't done so, do check out one of our previous articles on how MEGA earns money.
Feel free to use the comments below to suggest any changes!