So what's Sodexo's business? How does Sodexo make money if their food coupons have no transaction fees or maintenance fees? I spent hours researching what makes Sodexo a billion-dollar organization even though it seems that their only product is the Sodexo food coupons/cards?
How does Sodexo make money?
Sodexo makes money with food coupons to complement their soft and hard facilities management, cleaning, and other B2B services. Sodexo also earns interest income on the free float generated by allowing employees to opt for food coupons.
If you're short on time, here's a quick summary of the Sodexo Business Model:
Sodexo company relies on holding and owning businesses in multiple sectors to provide B2B services
They started as a catering business and expanded into soft and hard facilities management, cleaning services, and other B2B services
Introduced OPM (other people's money) to generate a cash float using meal passes and food cards
Sodexo relies on partner companies for supply and distribution, startup investments, research and development, and charity saving their overheads
The company generates over EUR 22 billion in sales.
Let's get right into understanding what Sodexo is, what they sell, and how Sodexo makes money to stay profitable.
What is Sodexo?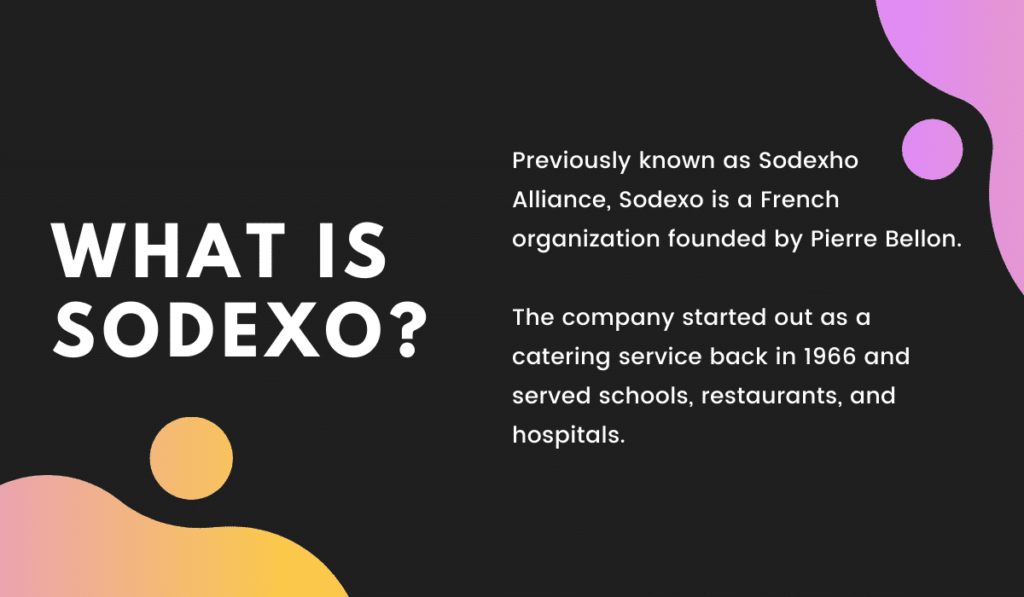 Previously known as Sodexho Alliance, Sodexo is a French organization founded by Pierre Bellon. Being one of the biggest B2B food-service companies across the globe, their operations are currently present in more than 65 countries with annual sales of over EUR 21 billion!
The company started out as a catering service back in 1966 and served schools, restaurants, and hospitals. As their outreach grew further, it became essential for them to start expanding their operations.
Services that Sodexo offers apart from Sodexo Food Coupons
Facilities Management
Cleaning
Executive Dining
Concierge Services
Annual maintenance contracts
Project management
and many other B2B services…
The brand is quite omnipresent. Their most common appearance of the brand is on the food or meal coupons provided by organizations to their employees.
Since the majority of the people across the globe see Sodexo's logo only on these free to use food cards, it's very easy to wonder how Sodexo is making money and growing so big?
I mean, can a food coupon company really become a billion-dollar organization? If not, how Sodexo works?
Let's dive deeper into what their revenue sources are, how Sodexo makes money and their business model.
The Sodexo Business Model
Now that you know, Sodexo is not just a food card and meal card company, let's find out how it's earning the billions (EUR 22 billion).
As we understood in our previous tutorial on what is a business model, we'll break down their business model into the following segments:
What Problem does Sodexo Solve?
How are they solving the problem?
Who are their customers?
What's their profitability and revenue?
What Problem Does Sodexo Solve?
Businesses across the globe face similar problems when it comes to managing facilities, employee rewards, food services, maintaining their building property and technology, and others.
Sodexo helps companies reduce the time spent to solve office maintenance and employee engagement issues and focus on things that help grow their business.
This is a win-win situation because Sodexo gains trust and grows big along with their clients. And their clients can now put all their efforts into improving their own products and services.
Sodexo Products and Services: How Sodexo Solves Client Problems?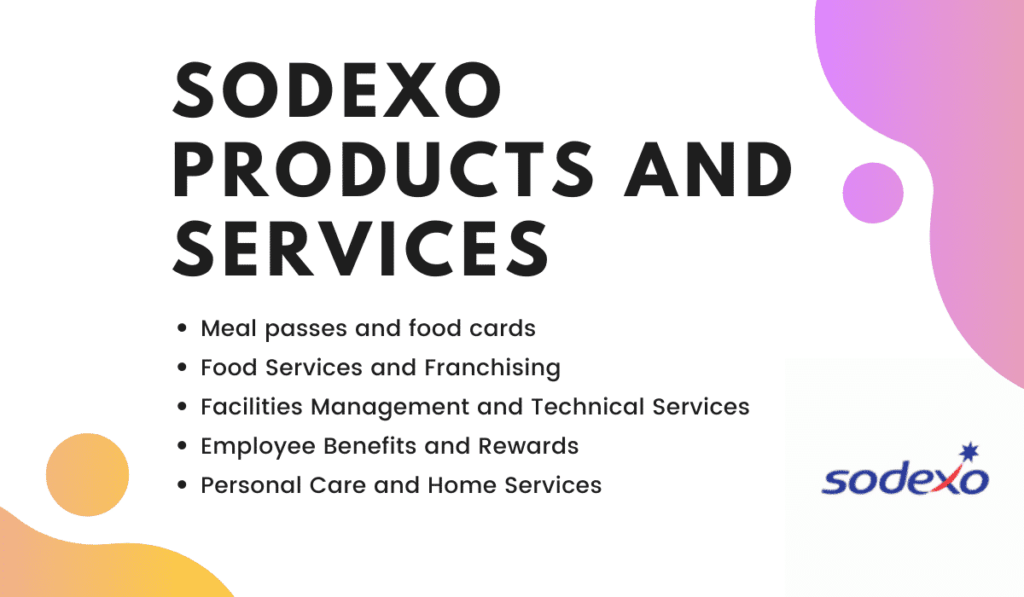 The company Sodexo offers personalized services catered to the client's needs. They're specialists in understanding the client's requirements at a glance because of decades of industry experience.
1. Meal passes and food cards
This is one of their major passive revenue generator providing the company with a huge cash pile of float money.
The Sodexo meal cards allow end-users to buy food from affiliated restaurants, online shopping, and stores and save tax on the money added to the card. For most employees, the tax-saving part is a very compelling reason to opt for food cards.
Sodexo does not charge its end users for using the balance on the card. The employers who opt for the card for their employees, and the restaurants that accept Sodexo meal passes, are charged a 2% transaction fee on every credit or debit transaction that happens on their end. With new integrations, you can also transfer money from the Sodexo card to Paytm.
Now, 2% might sound like a tiny amount, but when you are working with cash worth billions, the 2% runs into a few hundred million.
Who wouldn't like a couple hundred million for creating plastic cards? I would!
2. Food Services and Franchising
Sodexo started out as a food service contract business in 1966 and their work ethic, consistency, and customer relations helped grow the business to where it is now. They own a lot of name brands in the food industry including Mindful, Simply to Go, The Grid, Foodiverse, eat>, and many more across multiple countries. The Sodexo food menu is diverse and caters to a variety of tastes and likings.
But that's not where it ends.
Sodexo franchises outlets of known food brands across the globe like:
Subway
Starbucks
VeggieGrill
Taylor St Baristas
Being in the retail food industry themselves helps them mass accept the food cards, making it even more compelling for people to opt for the cards.
As more people opt for the cards, more generic restaurants find it necessary to accept those cards too. Overall, this virtuous cycle of an increasing customer base helps Sodexo grow their #1 service – Meal passes.
3. Facilities Management and Technical Services
This is one of their broadest offerings. Though Sodexo revolves around being an excellent food services business, they offer personalized quality of life services to corporations.
Some of the facilities and technical services provided by Sodexo:
Laundry and Cleaning services
Waste management
General Repairs and Technical Maintenance
Asset Management
Energy and Sustainability strategies
The revenues during the Financial Year 2020 for facilities management and technical services for Sodexo have been over EUR 3,195,000,000 (that's 3 billion euros) and is a 9% growth from its previous years of EUR 2.8 billion.
4. Employee Benefits and Rewards
Sodexo Benefits program, a major part of Sodexo's business across the globe and their Inspirus program in the United States were created decades ago to improve employee engagement, employee recognition, performance awards, onboarding, reporting and analytics and much more.
Sodexo ties all of its businesses back to their food and meal card business increasing their cashflow without increasing overheads.
A very strategic diversification indeed.
5. Personal Care and Home Services
After the acquisition of Comfort Keepers in 2009, Sodexo expanded into offering services for seniors and their families, and slowly transitioned into childcare for busy parents.
Sodexo tied up with organizations to help their employees allow their parents to age without a worry. This include services like:
Meal preparation
Housekeeping
Transportation
Shopping
Doctor appointments
They also expand the same business into childcare by offering a company's employees to leave their kids worry-free with someone they can trust.
Who are Sodexo's Customers and What Industries are they in?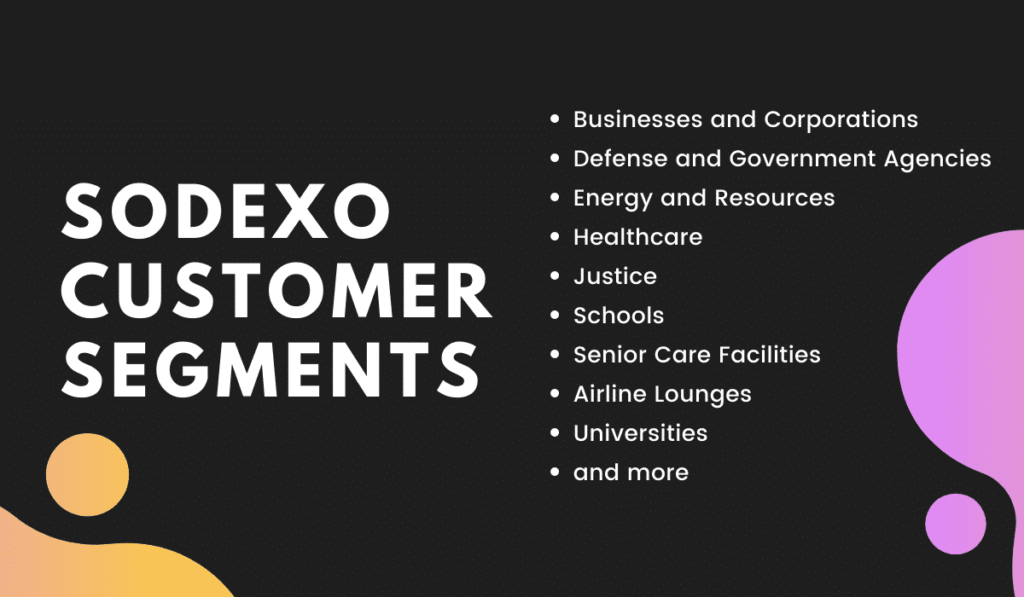 The Sodexo business focuses majorly on serving the B2B markets. Let's understand their customer segments and what industries they serve in general.
Sodexo serves clients in the following markets:
Businesses and Corporations
Defense and Government Agencies
Energy and Resources
Healthcare
Justice
Schools
Senior Care Facilities
Airline Lounges
Universities
If you understand the customer base well, you know exactly how does Sodexo make money because of the sheer market potential of their services.
Sodexo Profitability and Revenues: How Much Money Does Sodexo Make?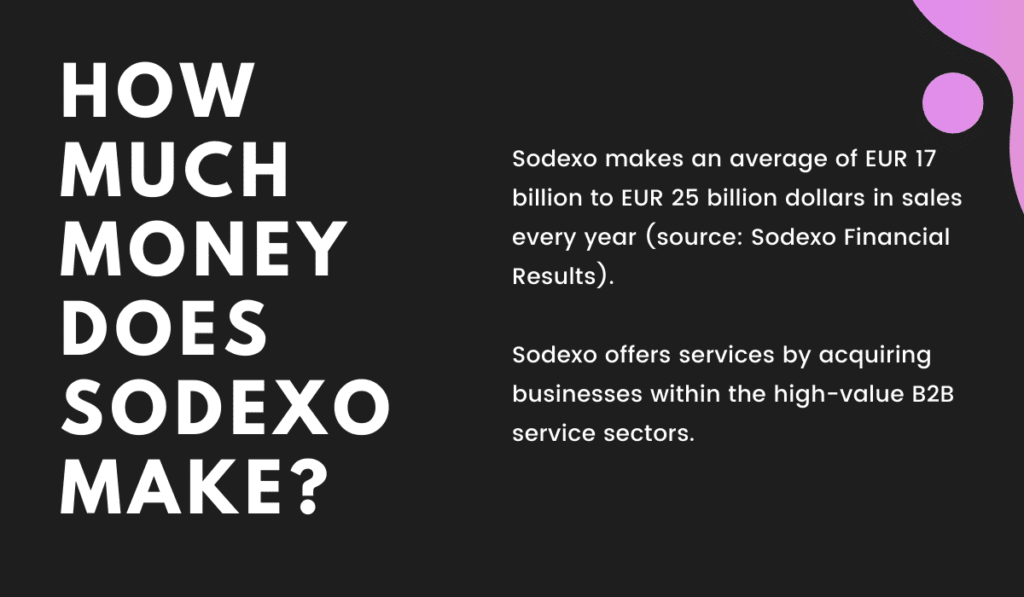 Sodexo makes an average of EUR 17 billion to EUR 25 billion dollars in sales every year (source: Sodexo Financial Results).
Sodexo has been an active acquirer of businesses that work in and around the sectors that they cater to and this has been the Sodexo business model since they started out. It helps their company increase its revenue sources, diversify the business, and improve its financial standing.
Many of the services that Sodexo currently offers are based on the companies that were acquired. For example, ZETA is a fintech company that was acquired by Sodexo as a part of its business model to expand the food card and make it more accessible and easy to use.
Zeta Sodexo allows meal card users to track their transactions, their current balance, and also add money to the card.
As you might notice, Sodexo revolves around improving customer relations, so their customers have no reason to switch to a competitor.
So, How Does Sodexo Make Money?
Now that we have a very good understanding of the Sodexo business model and the services and business offerings, we'll dive into understanding how Sodexo makes money? Let's look at what are the major sources of revenue and how much does Sodexo earn in profits.
Sodexo Cash Cow: What Are the Major Revenue Sources for Sodexo?
Since the company relies on acquiring existing businesses to generate business cash flow, most of their services offer a sustainable and consistent revenue for the company.
The major revenue source for the company in different countries varies. But from a global perspective, the Sodexo meal passes and food cards offer a very sustainable revenue with fewer overheads.
Coming to the other major sources, Sodexo earns about 15-20% of their revenue from Facilities management services. But the rest of their revenue is split between food outlet franchising, and management of their own food joints globally.
How Much Does Sodexo Earn?
As we mentioned above, Sodexo earns around EUR 20 billion annually with a YoY growth of 3-5% making it one of the bigger companies with a very high-risk business model.
But the Sodexo business is very strong even though they work in a sector where a lot of things could go wrong. For example, facilities management, executive dining, concierge service where one mistake from their employees could cost a long term, high paying client.
Ending notes…
Sodexo business model is quite uncomplicated to look at on the outside but when we dive deeper into the model as we did today, it turns out that what they're doing is providing a really difficult to maintain service and doing so really well.
Hope you enjoyed reading the article!