Today, we're talking about this free video conferencing app called Zoom and how it makes money while offering the product for free to everyone. With the pandemic situation, every company has gone online. And with that, companies like Zoom, Google Meet, Google Hangout, Microsoft Teams, and many others have gone mainstream.
But if you run a podcast, or are a user of Zoom Video Meetings, you know that they have a great offering for free users and the only limitation is the number of participants and the time. So, how is Zoom making money?
How does Zoom make money?
Zoom makes money from the subscription sales for its Zoom Meetings app. Zoom can generate higher MRR from these subscription plans as more users adopt Zoom as their virtual meeting platform. Zoom also offers other products like Zoom Rooms and Zoom Webinar that add to their annual revenues.
What is Zoom?
Zoom Communications, Inc. is an online communications technology company in San Jose, California. It provides video conferencing products for companies across the globe and is one of the top companies within the niche.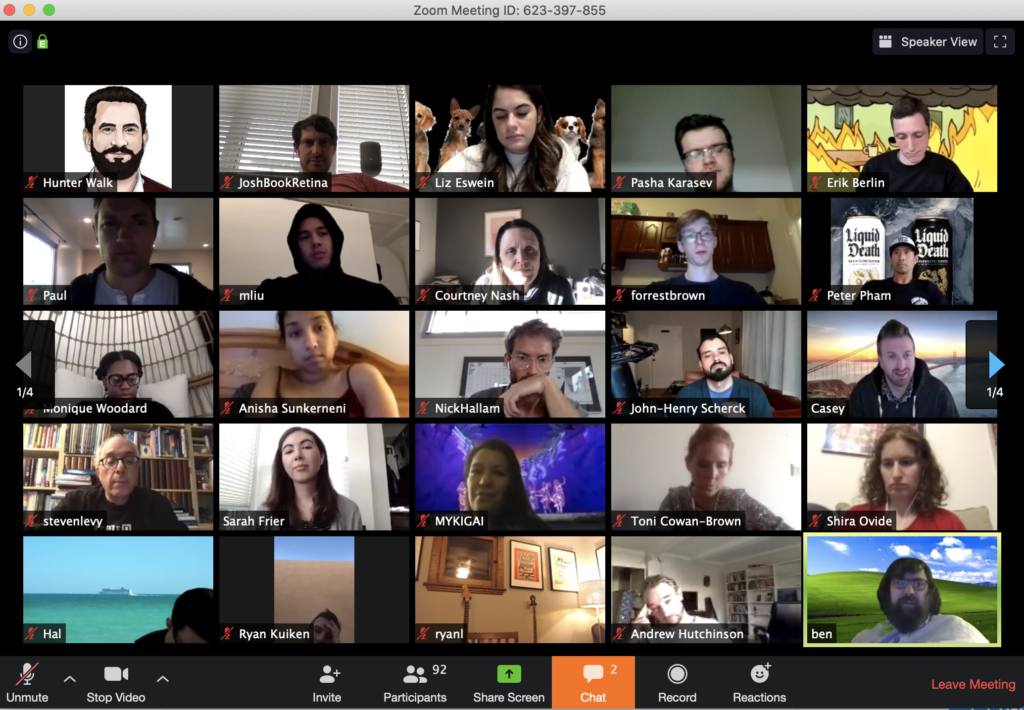 Zoom's peculiar user interface makes it easy for even non-tech users to join a meeting effortlessly.
The meeting host creates a Zoom meeting link and shares it with the team
If the link has the meeting password, users automatically log into the video meeting as soon as they click the link
If the link is without the password, users are required to enter the meeting password to join the meeting
The meeting host can invite more people, record the meeting, users share reactions on other users, and much more!
Here are some of the features of the Zoom app:
Zoom Video Webinars
Create a virtual video conference room
Cloud recording of all meetings
Group meeting and video calls
Virtual background (one of the really cool features! Feels like Snapchat!)
How did Zoom grow in the saturated video conferencing market?
When Eric Yuan, a former Cisco Webex employee, decided to jump ship and create Zoom, he was met with a lot of objections.
Back then, Zoom Video started out as Saasbee, Inc. which was just another video conferencing platform. So Eric had a lot of trouble finding any source of funding for his company.
The video-conferencing market had a lot of sub-par products that could be improved upon. But, people did not feel like there was a need for an additional app anymore.
Eric, sticking to his vision, continues to look for funding while developing a world-class video conferencing platform.
In June 2011, Zoom Communications, Inc. (formerly Saasbee) raised $3 million of seed money from WebEx founder Subrah Iyar, former Cisco SVP and General Counsel Dan Scheinman, and venture capitalists Matt Ocko, TSVC, and Bill Tai.
What milestones mark Zoom's growth since inception?
And this is how Zoom Communications began. Here are some of the milestones that Zoom has achieved since its first funding:
2011: Zoom founded, the first employee hired, first seed funding, and the first office leased
2013: First public release of Zoom Meetings, which supported 200 million annual meeting minutes by year-end
2014: Introduced Zoom Chat, Zoom Video Webinar, and Zoom Rooms
2015: 100th employee hired, revolutionized mobile screen sharing, introduced Zoom Video Breakout Rooms, and partnered with Slack and salesforce.com
2016: Added native interoperability with Microsoft Skype for business, introduced touch and three-screen support for Zoom Rooms, and reached six billion annual meeting minutes
2017: Announced Zoom Developer Platform, hosted our first user conference, Zoomtopia, and opened offices in Australia and the United Kingdom
2018: Announced Zoom Phone, Zoom App Marketplace, and partnerships with Atlassian and Dropbox
2019: Exceeded 5 billion monthly meeting minutes
What is Zoom's marketing strategy?
Zoom being a collaborative platform, everyone who hosts a Zoom meet and invites users to the meeting, is essentially promoting the platform further.
This viral lead-generation strategy is paired with Zoom's go-to-market strategy. It includes direct sales reps that demo the product for larger organizations, reseller partners, and strategic partners that use Zoom as a mode of communication within their teams and their clients.
With this approach, Zoom does not have to spend money on advertising its product making their marketing strategy, extremely cost-effective.
What are the revenue sources for Zoom in 2021?
Zoom Communications offers subscription plans to a wide range of customers. This includes individuals and even fortune 500 organizations with hundreds of thousands of employees.
Users can host time and participant limited meetings for free. If they wish to remove the limitations, they can subscribe to one of the higher plans.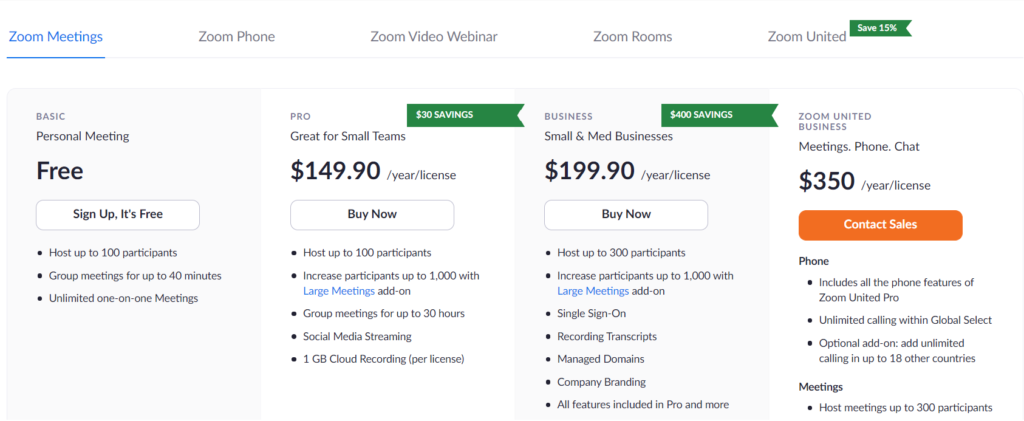 The company offers the following different products for their subscription plans:
Zoom Meetings – A video conferencing tool that allows multiple users to join in, share screens, and even host virtual events
Zoom Phone: A physical phone subscription line for office use that lets you make VoIP calls across the globe based on the subscription plan
Video Webinars: A perfect platform to host large scale panel discussions and virtual events.
Zoom Rooms: Allows enterprises to connect physical meeting rooms across the globe with the tap of a button on the tablet devices installed in the rooms by Zoom
Zoom United: A combination plan for enterprises or even individual users who want multiple Zoom products. Purchasing the United plan enables a discounted rate compared to buying the products individually.
For the fiscal year ended January 31, 2019, 55% of our 344 customers that contributed more than $100,000 of revenue started with at least one free host prior to subscribing.
These 344 customers contributed 30% of revenue for the fiscal year ended January 31, 2019.
How does Zoom make its money? – Understanding the Zoom Business Model
Zoom sells subscriptions plans for its video-first communications platforms. Their primary revenue is the number of paid hosts that are subscribed to the platform. As more hosts subscribe and invite users to their meetings, the platform is marketed further, thus increasing their potential client base.
The company's paid offerings for different products include Pro, Business, and Enterprise plans. They provide incremental features and functionality, such as different participant limits, administrative controls, and reporting.
Along with the main product, Zoom Meetings, the company also makes money using Zoom Video Webinars, Zoom Rooms, and Zoom Phones. These are great additions to the operations of major multi-national companies across the globe.
According to Zoom's SEC filings, their larger customers usually pay in annual installments a year in advance. The company saw an increase in the proportion of annual and multi-year subscriptions and billings as we have increased the number of larger customers.
In 2018 and 2019, more than 65% and 74% of their annual recurring revenue were generated from annual and multi-year subscription plans.
How much money does Zoom make?
In 2019, Zoom made $330.5 million.
In 2018, the revenue was $151.5 million. This represents an annual revenue growth rate of 118% for Zoom Communications.
Zoom had a loss of $0.0 million and $3.8 million for the fiscal years 2017 and 2018, respectively.
They had a net income of $7.6 million for the fiscal year ended January 31, 2019. This was Zoom's first profitable year since its inception!
Cash provided by operations was $9.4 million, $19.4 million, and $51.3 million for the fiscal years ended January 31, 2017, 2018, and 2019, respectively.
Zoom Communications' top 10 customers accounted for less than 10% of revenue for each of the fiscal years ended January 31, 2017, 2018, and 2019.
For the fiscal year ended January 31, 2019, Zoom acquired 344 customers that contributed more than $100,000 of revenue, compared to just 143 customers one year before. (source SEC filings)
Final Words
Zoom has built a scalable business model with thousands of customers of all types and sizes. They have customers spanning across industry verticals and geographies. Their efficient operating model and marketing strategies create positive cash flow for the company. This has resulted in most of their raised capital staying on their balance sheets.
If you loved reading this one, see how WhatsApp makes money here. Also, one of the most recent competitors Signal has an interesting business model too.