WhatsApp is the most preferred instant messaging application according to Inc magazine. But after they tossed their $1 subscription model, how is Whatsapp making money? To understand the Whatsapp business model, we need to learn how they grew, and how things changed over time for the business.
TLDR; How does WhatsApp make money?
WhatsApp makes money with their business API subscription, Facebook's click-to-WhatsApp ads, and WhatsApp Pay. The initially planned $1 per year subscription-based revenue model was scrapped after Facebook acquired WhatsApp in 2014. The business now generates revenue by allowing businesses to interact with customers more seamlessly with their APIs and new ad formats.
What is WhatsApp and How did it start?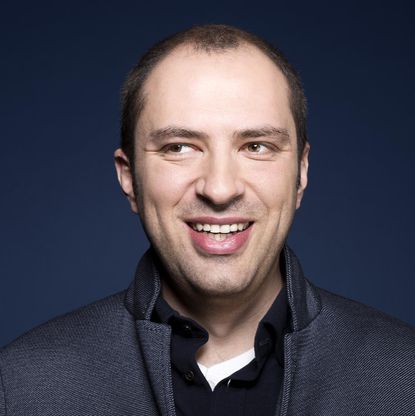 We developed WhatsApp because we wanted to build a product that people would love to use. Something that they'd wake up to and be excited to look at.

— Jan Koum – Co-founder, WhatsApp
---
Jan Koum and Brian Acton launched WhatsApp in 2009.
They had been employees at Yahoo! and had taken some time off work.
Meanwhile, their job application at Facebook was rejected so they decided to continue working on this "little side-project".
When WhatsApp was first launched, both of them were very excited but their excitement soon met with disappointment as no one used their product.
However, the application was an extremely seamless transition from regular text SMS to multimedia messaging. So more people began inviting their friends and family to join the platform.
This viral effect got WhatsApp to over 400 million users by 2014.
On October 6, 2014, WhatsApp was acquired by Facebook (NAS: FB) for $17.19 billion on October 6, 2014. Facebook issued approximately 178 million shares of Class A common stock and paid $4.59 billion in cash as consideration.

Pitchbook data
To monetize WhatsApp, the founders tried to add a $1 yearly subscription. However, after Facebook took over, the subscription business was no longer necessary.
The founders of WhatsApp left Facebook a few years after the acquisition with fat check of more than $17 billion.
If their subscription-based revenue model failed, let's understand how does WhatsApp make money in 2020?
How does WhatsApp make money?
Until very recently, WhatsApp had no real revenue source. Though Facebook promised their users that the data will not be used for ad personalization, the statements cannot be trusted owing to the company's stand about data privacy.
So currently, WhatsApp has two revenue sources:
WhatsApp Business API subscription
Facebook news feed ads
There are potential future revenue sources in the making and Facebook has been planning ahead to monetize WhatsApp's userbase of 2+ billion monthly active users. Let's explore the existing and the potential future revenue generation ideas for WhatsApp.
WhatsApp Business API Subscription
In August 2018, WhatsApp announced its first revenue-generating product, WhatsApp for Business API.
Since they launched their WhatsApp Business application, they'd been tinkering around to improve the app to suit business needs.
Come 2020, many banks now offer banking on WhatsApp, while quite a lot of the bigger brands use WhatsApp to stay in touch with users and answer support queries.
Businesses can even use the WhatsApp Business API to send customised notifications with relevant, non-promotional content such as shipping confirmations, appointment reminders or event tickets
Being an enterprise product, the Business API is priced based on the needs of the business. The prices aren't publicly available.
The access to the WhatsApp Business API is restricted to few businesses. You can fill in a form here to apply for API access.
WhatsApp isn't limiting access to the API based on where companies are located, it says, nor does it have requirements for those businesses – like how many messages they need to send per month.

This is another piece of misinformation out there, as businesses try to decipher who's getting in.

Some have been saying that API customers need to send at least 100,000 messages a month if they expect WhatsApp to approve them during this preview phase. This is inaccurate, WhatsApp says.

Techcrunch
What is the WhatsApp for Business API?
If you've used an email API to send bulk emails to your customers, the WhatsApp Business API is the same for sending WhatsApp messages.
It's a self-hosted solution for enterprises to reach, connect, and respond to customers via auto-response WhatsApp messaging to resolve queries seamlessly.
First, enterprises need to get users to opt-in to receive WhatsApp communication from them before the API allows communication.
How does WhatsApp for Business API work?
Once you get approved as a business with WhatsApp and get access to their API, you now have access to their front-end.

You can create message templates to greet users, request information, interact with users, personalize messages with variable text, and much more, automatically.
There are messaging tier limits and each business starts at the lowest tier, that's Tier 1.
Tier 1: Allows your business to send messages to 1K unique customers in a rolling 24-hour period.
Tier 2: Allows your business to send messages to 10K unique customers in a rolling 24-hour period.
Tier 3: Allows your business to send messages to 100K unique customers in a rolling 24-hour period.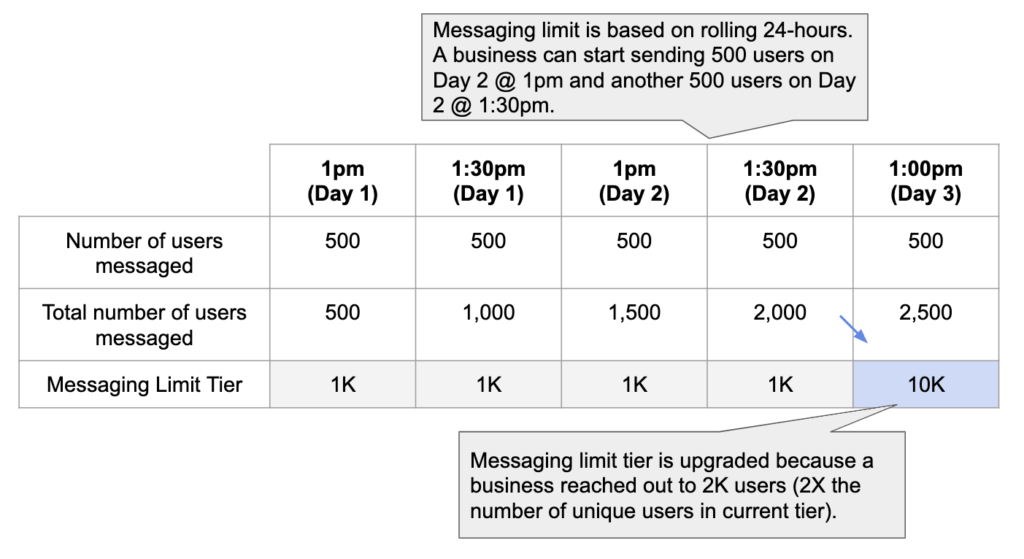 As you begin sending more higher quality messages, the tier limits are upgraded.
Facebook Click-to-WhatsApp Ads
Most ads that generate in a click, don't necessarily convert into a sale. And this is more commonly seen with higher-ticket products.
What users would prefer at that moment is to gain trust. Since users aren't ready to buy, the better way to convert them is to get them to chat with you on a platform they already use.
That's WhatsApp.
With Facebook's Click-to-WhatsApp ads, users can click a button and be redirected to their WhatsApp and directly send you a prefilled message to initiate the conversation.
Since the application is already installed and regularly used, your prospects have minimal entry barriers in getting in touch with you.
Businesses running these ads will receive aggregated metrics in Ads Manager to evaluate the effectiveness of their campaigns, including:
Conversations Started: The number of conversations attributed to your Facebook ad campaign from people starting a new thread with you or messaging you for the first time in more than a week.
Messaging Replies: The total number of messages that people sent to your business attributed to the ads you ran on Facebook.
This is one of the other ways Facebook is monetizing WhatsApp to generate revenues.
Potential Revenue Sources for WhatsApp in the Future
The two revenue-generating products listed above are the ones Facebook is monetizing the platform with at present.
Facebook is planning to integrate WhatsApp payments worldwide and make it easy for businesses to transact from within the Whatsapp window, without the user ever having to exit. It offers users with payment options to directly send money to a business they availed services from.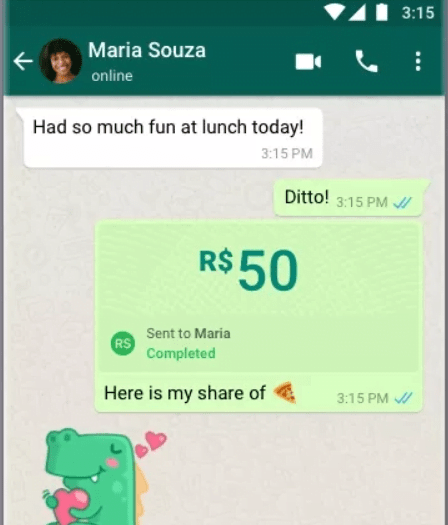 Somewhere around 2018 and 2019, they received permission to test out Whatsapp Pay as a feature in India. It's still being tested in different countries and is currently available in Brazil.
The other potential revenue source is WhatsApp status advertisements. Though this plan will go against the idea that the founders had for the product, it can be a lucrative revenue source.
WhatsApp Business and Revenue Model
What started as a fun project between two developers is now being used by 2 billion+ users monthly and thousands of businesses to operate online.
Let's understand the aspects of the WhatsApp business model in a quick brief.
1. WhatsApp's userbase
The major userbase of WhatsApp is anyone who owns a smartphone and wishes to communicate with others.
Its users also include businesses that wish to keep in touch with their customers
2. Customer Relationship
WhatsApp support is available for all messenger, business, privacy policy, enterprise solutions, and general queries. You can visit their contact page for details on how to contact them.
3. Key Resources
Users who encourage their friends and family to get onboard to stay in touch
Development team to introduce new features
Servers and technology infrastructure to be able to handle the billions of messages being sent and received
4. Value Proposition
WhatsApp's value proposition is the reason why it was initially built by its founders – "A product that people just loved to used and wanted to wake up and look at"
This is exactly what WhatsApp has now become.
5. Key Activities
Implementing application improvements
Server load management
Identifying additional revenue sources
6. Fixed and Variable Costs
Employee salaries
Server costs
App development and maintenance costs
7. WhatsApp Revenue Sources
WhatsApp Business API subscription
Facebook news feed ads
Whatsapp Pay*
Whatsapp Status Ads*
* Potential revenue sources for the future
Marketing Strategy of WhatsApp
How did WhatsApp gain the traction that it currently has? And can you replicate their marketing for your own business?
Many applications have tried to replicate WhatsApp's success. But the reason for WhatsApp's success was never their marketing.
The application was built with the end user in mind. Every aspect of the application catered to a need that users had.
It seamlessly integrated with the phone numbers resembling regular text messages. It offered additional features like multimedia messaging which would cost much higher via regular MMS.
And this "SMS replacement" app compelled users to get more of their family and friends onboard which created a true-viral effect.
Replicating the success may not be possible by copying their strategy. But you surely can incorporate a sharability factor in your business to get users to promote you.
Word-of-mouth is the most powerful promotion that you can get.
FAQ
What is the income of WhatsApp?
Forbes estimates that WhatsApp generates an average annual revenue of around $15 billion with an average revenue per user at $7.
How does Whatsapp Business work?
WhatsApp business offers businesses the tools inside the application to showcase their product catalog, automatically send greeting messages, send auto responders at scheduled times and more to help business owners simplify communication.
What is the income source of WhatsApp?
In 2020, WhatsApp makes money from their Business API subscription, Click-to-WhatsApp ads, and Whatsapp Payments.
Who owns WhatsApp?
Acquired by Facebook in 2014 and WhatsApp is now owned and operated by Facebook. It's founders Jan Koum and Brian Acton exited the company soon after its acquisition.
What kind of messaging does Whatsapp support?
Whatsapp supports text, image and voice messages.
What is the net worth of WhatsApp?
WhatsApp stands at a current valuation of $1.5 billion after the Sequoia Capital investors funding round of $200 million.
Can we earn money from WhatsApp?
Yes, it's possible to earn money from WhatsApp by connecting with your customers through this medium. Similar to a regular business transaction, you can perform business transactions on WhatsApp and sell your products or services through a WhatsApp business account.
Conclusion
I hope you enjoyed reading this article! We haven't covered the competitors of WhatsApp here since there really aren't any competitors that are as big. Apart from Snapchat, and Telegram which tried to beat WhatsApp, the text messaging space has been owned by the company since it started out.
There's a lot that goes into building businesses and startups. And with each business model that we cover, we understand what the founders did to reach their success.
Stay tuned for more writeups!