BeReal, one of the newest addition to the list of popular social media platforms recently caught my eye. And what's surprising is that it's ad free, has no mechanism to keep you addicted to it for the entire day, and has a very minimal and clean UI.
And if it's not running ads, how does BeReal make money? What are the revenue sources of this social media platform? And what is the business model that the creators have decided to use for it?
How does BeReal make money?
BeReal does not make any money at present. It also does not have any advertisements or in-app purchases. However, BeReal raised a total of $90 million in funding ($30 million from the Series A round and $60 million from the Series B round) giving them the required runway for the business business.
Let's jump right into what BeReal is as a platform, what makes it different from the existing social media, a quick BeReal SWOT analysis, and its potential revenue sources.
What is BeReal?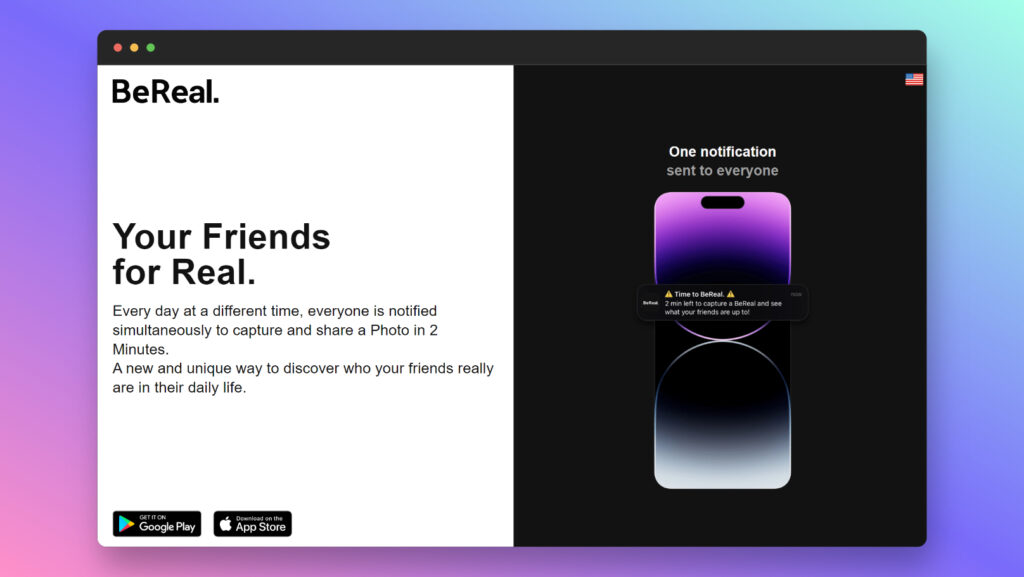 BeReal is a France-based social media platform released in 2020 and created by Alexis Barreyat and Kevin Perreau. It took the platform over 2 years to gain noteworthy traction. By October 2022, BeReal had been 73 million times across the Apple and Google Play stores.
BeReal encourages you to be real (surprise!) with your friends by excluding filters or edits for your photos.
And because you cannot comment on random users' posts, or start following or unfollowing anyone, BeReal solves one purpose – reduce social media fatigue.
The founders wanted to create a social media platform that people enjoy using while not getting addicted to it.
How does BeReal make money?
Let's get into the question at hand – the business model of BeReal and the potential revenue sources. As I've mentioned earlier, BeReal does not make any money at the moment. However, they've raised enough money to stay afloat. So the first way BeReal is sustaining their business is…
Investor Funding
BeReal has raised a total of $90 million in funding, with $30 million coming from its Series A round and $60 million from its Series B round. The funding was led by Andreessen Horowitz, Accel, and New Wave, and pushed the app's valuation to just under $587 million.
This gives them enough runway to sustain the business while the founders identify a good revenue model for their platform.
Potential Revenue Sources for BeReal
While BeReal currently does not make money, here are a few potential sources of revenue that the founders may adopt in the future to create a sustainable social media platform.
1. Subscription
Telegram proved that there's a market for subscription-based social media platforms. Another recent addition to the subscription-based social media platforms is Twitter which started the Twitter Blue. If BeReal's founders reject the idea of advertising, this may be the best bet for the social media platform to become profitable long term.
BeReal could start a premium service where users have special privileges that make their content stand out in the "Discovery" tab.
2. Image or video advertising
Advertising is the easiest way to sustainability for most social media platforms. And we've seen this time and again. Once a platform has their base set of users, the platforms turn towards advertising to generate revenue.
This is also something BeReal's founders could opt for. And why wouldn't they? Advertising is the easiest to monetize.
3. Exit
Finally, if the platform cannot find a way to become profitable without breaking the values they created for the platform, the founders can choose to go the route of an Exit. That's also why, when WhatsApp's business model didn't show any signs of sustainability for the small-time independent founders, they opened up for an exit and Facebook took over WhatsApp.
BeReal has an engaged audience that is valuable to any business. And this could be a great strategy for the founders once they have a significant number of users that businesses would pay for.
BeReal Business Model
BeReal's business and revenue model is similar to that of the many other social media platforms out there – create a platform that users like, then figure out a way to monetize it.
And while the user acquisition goal is achieved, investors happily fund the platforms' growth owing to the historical performance of social media across the globe.
As mentioned eariler, BeReal has received a total of $90 million in funding till date. This takes BeReal's valuation to $600 million.
BeReal SWOT Analysis
To close, let's look at the SWOT analysis of BeReal, thus taking an insider's look at what the platform is and how it could increase its market share in the long run.
Strengths
Unique approach to photo-sharing: BeReal varies from other social media platforms in its approach to photo-sharing, encouraging users to upload unmodified and unfiltered photographs, providing a unique user experience.
High engagement: Because of its philosophy of limiting the number of photographs published on the network, it has a highly engaged following. Users are eager to receive updates from their friends at random times throughout the day.
High valuation: Given its high valuation of $600 million and the significant amount of outside investment it has attracted, the platform may have the potential to generate income in the future.
Paid ambassador program: The app soon took off on college campuses because of the company's paid ambassador program, which helped to expand its audience and user base.
Weaknesses
Lack of revenue sources: BeReal does not yet make money through conventional channels like adverts or in-app purchases, which could pose problems for the business in the long run.
Limited functionality: For some users, BeReal's strategy of limiting the amount of content posted on the network may limit the platform's functionality.
Dependence on funding: Because it relies on outside investors for capital, it may be vulnerable to changes in the investment market, and it may need to build long-term revenue sources to ensure its long-term viability.
Opportunities
Potential for monetization: Because of its vast user base, the network has the potential to commercialize in the future through techniques like subscriptions, image or video-based advertising, and more.
Expansion into other markets: The popularity of BeReal in France may open up prospects for development into other areas such as Europe, North America, and Asia.
Partnerships: To earn revenue, the platform might develop agreements with brands or other companies, or it can offer new features and services to its customers.
Virtual and Augmented Reality: BeReal could investigate the usage of Virtual and Augmented Reality technology to improve the user experience and increase platform engagement.
Threats
Competition: BeReal faces competition from other social media platforms such as Instagram and Snapchat, which are well-established and have a larger user base and more revenue sources. To add to that, Instagram and Snapchat, both have very engaging content formats that are designed to hook users which goes against BeReal's mission – a non-addictive social media.
Changes in user behavior: While the current generation of users may feel overwhelmed by the amount of content produced on social media, the role of AI may make content consumption more efficient in the future – thus making BeReal's mission redundant.
Regulatory challenges: BeReal may face regulatory challenges as it looks to monetize its platform.
How does BeReal work?
Every day, at a random time, users get a BeReal app notification that says "It's time to BeReal". You can only post a picture when you get that notification.
When you tap the notification, the app opens in rear camera mode.
As soon as you click a picture, it switches to the front camera and clicks a picture of you in action too.
And there are no filters or edits available. If you delete the BeReal because you don't like it, you cannot post another BeReal until the next notification.
I will agree, this part is quite annoying. But it's how they wanted social media to be.
What next?
BeReal is a one-of-a-kind social networking site that encourages users to be authentic with their friends by not allowing them to use filters or modify their photographs. The platform, that promises to eliminate social media weariness, has garnered significant interest since its launch in 2020.
BeReal currently makes no money because there are no adverts or in-app purchases. However, the company has acquired $90 million in cash, which will allow them to keep the business running while the founders figure out a good revenue model for the platform.
BeReal's potential revenue sources include subscriptions and image or video advertising. If you're interested in learning more about the financial models of social media services, you might like to read about Telegram and Signal.