After the recent updates to WhatsApp's privacy policy, Signal has gained much-deserved traction. In fact, according to BusinessInsider, Signal experienced a 4,200% increase in their downloads right after the update! But how does Signal make money to sustain operations?
Signal is a free and open-source 501(c)(3) nonprofit organization and focuses heavily on the privacy and security of its users' data. So, without any direct potential to earn, how do they sustain their app and all the users?
How does Signal make money?
Signal receives its funding from its parent, Signal Technology Foundation. The company received a $50 million loan at 0% interest from Brian Acton, former founder of WhatsApp, to support Signal's operations. The total loan from multiple investors of $105 million will be used to sustain operations for the coming years.
What is Signal?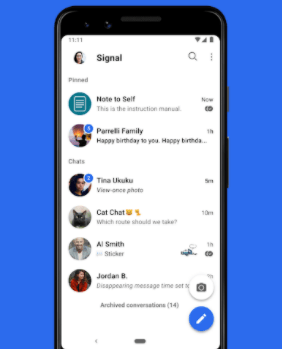 Signal is a text messaging app, created with an absolute focus on privacy.
The founders of Signal are Moxie Marlinspike (founder of the Open Whisper Systems project) and Brian Acton (founder of WhatsApp).
If you're tired of companies spying on your chat messages between users, it's time for you to switch to Signal.
While there are a few caveats to making the switch, the pros outweigh the cons if you are a privacy enthusiast (WhatsApp vs Signal comparison):
Signal is free and open-source (you can take a look at Signal's code here)
Truly end-to-end encrypted with the keys stored in your device
Using Signal is as easy as using regular SMS on steroids
Brilliant call and video quality even on low-end connections
The only thing that I noticed lacking in Signal is the polished UI and business integration that WhatsApp offers. That's usually the case with open-source tools and that's perfectly fine.
Alternatively, there's Telegram which also offers similar privacy-focused features as Signal with an added focus on groups and community building.
Also read: How does BeReal make money? [Updated]
How does Signal work?
The Signal app automatically encrypts messages sent from your phone before sending them out.
Once the recipient gets your encrypted message, the Signal app on their phone decrypts the messages.
In transit, the data is complete gibberish and cannot be decrypted without the recipient's phone. Hence, any message that you send out is unreadable even if a malicious user tries to gain access to your data.
And how does Signal make this happen? The company incorporates the following 4 encryption methodologies to encrypt every message sent to and from the app:
The keywords above are linked back to the Signal developer documentation.
How does Signal make money?
Currently, Signal runs its operations on a loan from its parent company Signal Technology Foundation. Brian is an Executive Chairman & CEO of the Signal Private Messenger app and has been given a $50 million loan at 0% interest until 2064.
While the Signal app doesn't make any revenue through its operations, the parent organization reported revenue of $609,365 in 2018 through free float interest and other operations within the company.
What are the future revenue sources for Signal?
If Signal continues to stick to its plan, it would not generate any revenues without explicitly asking its users to pay up for add-ons.
The company could adopt a business model similar to Discord where the revenue is generated from non-essential cosmetic features.
Another potential way Signal could make money is by asking users to donate. Privacy enthusiasts are folks that value such a cause and are highly likely to donate. Remember how Wikipedia asked for a donation from all its users recently? That's a great way to get additional funding for the future.
And lastly, Signal can also make money with an Initial Coin Offering much like Telegram did (read here and here). While it failed for Telegram, Signal can derive learnings from the failure and launch a better ICO here.
WhatsApp vs Signal – Which one is better?
You're very likely to fall into this dilemma where everyone you know is using WhatsApp while you're interested in switching over to Signal.
Let's evaluate the features of both WhatsApp and Signal here.
| WhatsApp Messenger | Telegram | Signal Private Messenger |
| --- | --- | --- |
| Group video calls (8 users at any time) | Self-destructing messages, where the message will get deleted after a point in time | Supports self-destructing messages |
| WhatsApp Status feature (also called WhatsApp stories) | The size limit for sharing files on Telegram is 1.5 GB | Note to Self to share your own thoughts and ideas without creating single-member groups |
| Whatsapp allows you to share all sorts of files and documents (up to 100MB) | Supports voice and video calls on Android and iOS devices | Signal allows relay voice calls to its servers, identity is not shared, the same as using a VPN |
| Photos, videos and audio files can be shared up to 16 MB | Telegram supports E2E only secret chats feature | Signal uses a back-end user-facing encryption service |
| WhatsApp uses an E2E protocol developed by Open Whisper Systems, the same as Signal | The company confirmed it has shared 0 bytes of data with third parties or any governments to date | It uses the open-source Signal Protocol to implement end-to-end encryption |
| Backup and restore messages and data via cloud services like Google Drive and iCloud | Can use the "Saved messages" feature to store messages and files without sending them to anyone | Signal also encrypts your metadata offering multiple levels of security |
WhatsApp vs Signal Messenger – Comparison
Frequently Asked Questions
Let's take a look at some of the important frequently asked questions about Signal here.
Is Signal app really safe?
Signal is completely safe. If you are a developer or have a friend who works in the development field, you can view the complete code on their GitHub repository
How is Signal free?
Signal is free because of the $50 million loan provided by Brian Acton at 0% APR which will continue to power Signal for the coming years. The company plans to stay non-profit to maintain its mission.
Is Signal better than WhatsApp?
It depends on your purpose of communication. If you're tired of applications capitalizing on your data without appropriate consent, Signal will be a great application to switch to. While it's always recommended to use a safe application when sending personal messages, WhatsApp continues to be the application of choice for many users.
Conclusion
I've switched to Signal and Telegram already. WhatsApp continues to power my business communication as it is where the customers are. However, all personal chats are routed through either Telegram or Signal in my case.
And, that brings us to the end of this business case study of Signal. I hope you now understand that Signal makes money to continue its operations via donations and loans from big investors that believe in the founders' visions.
If you enjoyed reading this one, you may also love to know how iBotta makes money if it offers so many discounts and cashback.