Most users don't pay for the LinkedIn premium subscription so, how does LinkedIn make money? Let's find out what the business model of LinkedIn is, and the revenue sources for the company.
How does Linkedin make money?
Linkedin makes money with its talent solutions, advertisements, Linkedin learning, and Linkedin premium. The majority of their annual revenue is generated from their talent solutions and Linkedin premium subscriptions.
About LinkedIn – History, Financials, and Board Members
A social media platform for professionals and businesses, Linkedin is the corporate version of Facebook where you can connect and network with like-minded folks in similar fields of business.
Linkedin was founded in 2003 by Reid Hoffman, Allen Blue, Konstantin Guericke, Eric Ly, and Jean-Luc Vaillant.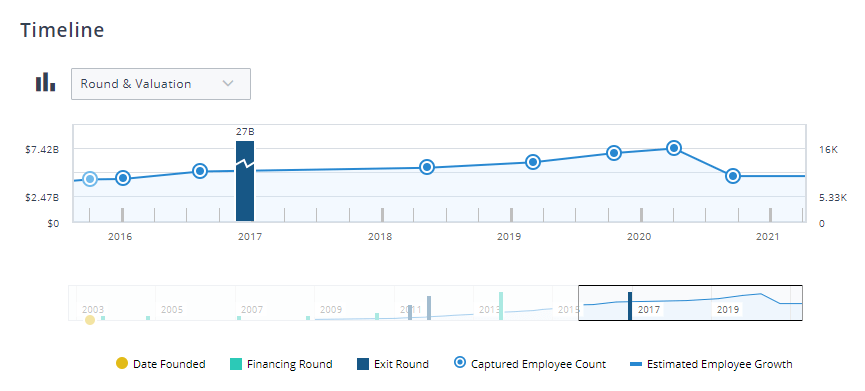 Soon after they started, LinkedIn received its first funding round at $4.7 million with a post valuation of $17.2 million in November 2003.
On 23 October 2008, Linkedin was worth $1.06 billion with a $75 million funding and they were 300+ employees strong back then.
As of 2020, LinkedIn has a post valuation of $27 billion which was after Microsoft acquired the company in a merger deal in 2016.
For a majority of B2B businesses, Linkedin offers easy access to an otherwise hard-to-reach target audience. This has been one of the major reasons for the growth of the platform.
Companies looking for employees can find viable candidates using LinkedIn's powerful filtering and sorting features. The potential to get a better job gives professionals a reason to keep their Linkedin profiles updated.
LinkedIn monetizes the search and filtering features under their talent solutions along with a variety of other features.
Board Member details of Linkedin:
| Name | Position |
| --- | --- |
| Ryan Roslansky | Chief Executive Officer |
| Steve Sordello | Chief Financial Officer and Senior Vice President |
| Raghu Hiremagalur | Chief Technology Officer and Vice President of Engineering |
| Melissa Selcher | Chief Marketing and Communications Officer |
| James Raybould | Director of Product, Learning Solutions |
| Caitlin Shea | Director, Sales Compensation |
| Eyal Itskovich | Senior Manager, Business Operations and Chief of Staff, Engineering |
| Jeffrey Weiner | Executive Chairman |
| Kristin Altorfer | Interim Corporate Communications, LinkedIn Talent Solutions |
| Daniel Shapero | Chief Business Officer and Senior Vice President |
Linkedin team members
LinkedIn Business Model
The LinkedIn search boasts powerful filtering capabilities which is the equivalent of Google for corporate search. And Linkedin capitalizes on the same search capabilities.
There are three personas that make up the LinkedIn business model:
Corporate professionals who are looking out for jobs or building relevant networks
Employers looking for the right candidates
Businesses in the B2B space wanting to advertise to the right audience
1. Corporate Professionals
These are the users of LinkedIn that the platform monetizes. The data and activities of these users are used as a way to serve relevant advertisements, display job posts, and relevant potential connections.
Every time a user wants to connect with a new user or is browsing through multiple user profiles. So, LinkedIn will very so often display a "Sign up for LinkedIn Premium and browse anonymously" notification.
Those who know the benefit of connecting with multiple decision-makers opt for the premium subscription here. You can also get them to connect with you over WhatsApp, a free chat app used by billions of users. It's a more personal way to connect with your prospects and has a higher rate of responses.
2. Employers
As more corporate professionals join the platform, more employers ask people to share their LinkedIn profiles instead of regular CVs.
This vicious cycle gets even more users to start using the platform and offers employers a great, active, and well-managed platform for their recruitment needs.
Employers can post jobs, connect with individuals who work in a specific role or company, and a lot more with LinkedIn.
3. Businesses
Companies can create their LinkedIn pages to showcase their products, employee strength, and culture. Along with that, a lot of companies and even individual freelancers create pages for marketing their products and gaining attention from the right people.
LinkedIn also allows businesses to advertise their products to relevant audiences much like Facebook ads.
As LinkedIn hosts some of the top corporate decision-makers, advertising on LinkedIn is highly profitable for businesses.
How Does LinkedIn Make Money?
With the three personas of the Linkedin business model in place, let's talk about how Linkedin makes money. A combination of features that would simplify the work for their 3 user personas is what Microsoft's LinkedIn uses for earning money.
1. Talent and Recruitment Solutions
A majority of users on LinkedIn are seeking better job opportunities and will jump ship if the right one comes through. They network and connect manually with decision makers to get into a company they wish to join in.
At the same time, employers are always looking for top talent in specific niches.
LinkedIn gives employers the perfect platform to display their job listings and allows users to easily apply to the job using their LinkedIn profile as a CV.
The employers find great candidates with having to sift through a lot of low-quality CVs. And professionals seeking better opportunities get more exposure easily.
Employers can use Linkedin to post free listings or get their job listing featured.
So, one of the major ways Linkedin makes money is by acting as a job listing site like Indeed. Let's look at the other ways the company is earning revenues.
2. Marketing and Sales Solutions
Businesses are always on the lookout for the most viable platforms for advertising and marketing their products. You can optimize all the funnels and landing pages you want, but without the right traffic, you'll see no conversions.
Similar to how niche advertising on Gmail attracts the right set of users, Linkedin advertisements allow businesses operating in the B2B sector to reach decision-makers. of target companies.
Recruitment and product advertisements are the highest revenue generators for Linkedin according to their last publicized annual reports before being acquired and going private.
3. LinkedIn Premium Subscription
Another major source of revenue for Linkedin is its premium subscription which forms a recurring revenue source for the company.
You can use LinkedIn for no cost whatsoever. But an important feature of LinkedIn is "Who viewed your profile" which is only available to premium users.
A free user can only view 2-3 people while LinkedIn hides the profiles of others and overlays it with the message "Sign up for premium to view all those who checked out your profile".
Being a powerful feature, those with the intention to connect and network with peers choose to sign up for the premium subscription.
Apart from that, the Linkedin Premium subscription also gives access to Linkedin Learning.
Another powerful feature is Linkedin's InMail. Compared to regular messages, InMail shows up as an inbox message from their connection.
So if you are looking to connect directly with someone like a hiring manager, this proves useful for you to stand out in the crowd of regular messages.
4. LinkedIn Learning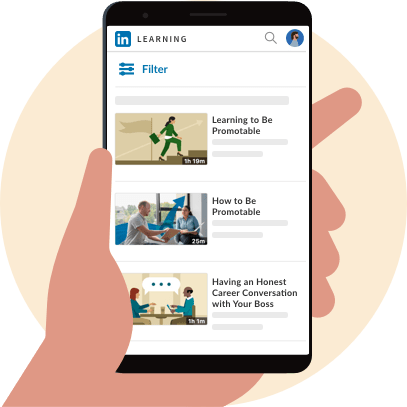 Linkedin Learning is a great way to upskill employees. The platform offers bite-sized courses for management, programming, presentation, and a lot more.
Though this forms a part of the Linkedin Premium subscription for individuals, that's not where the majority of the revenue is.
Organizations subscribe to Linkedin Learning en masse to upskill employees and give them an incentive to work on bigger, more profitable projects.
It's a win-win situation for both the parties involved here. The company gets an employee who has better than average skills.
The employee gets a chance to improve herself with a future potential to earn a promotion.
Frequently Asked Questions
Does Linkedin make a profit?
Yes, Linkedin has been a profitable company for a long time since it started. Their minimal overhead paired with a streamlined platform and a strong userbase makes it highly valuable for businesses to subscribe to and pay for their advanced subscriptions.
How does Linkedin make money in 2020?
In 2020, Linkedin makes money with their talent solutions, Linkedin premium and Linkedin learning subscription, and marketing and sales solutions for businesses and individuals alike.
How much is Linkedin worth today?
After the acquisition of Linkedin by Microsoft back in 2016, Linkedin's post valuation touched $27 billion. The company went private after this acquisition and this has been the final publicly available valuation of the company.
Is Linkedin still relevant in 2020?
Yes! Linkedin is even more relevant in 2020 than it was before and will continue to increase in importance. As more employers ask for a Linkedin profile instead of a CV, people are inclined to keep their Linkedin user profiles up-to-date for better employment opportunities.
Why did Microsoft buy Linkedin?
Microsoft wants to turn LinkedIn profiles into a central identity, and the newsfeed into an intelligent stream of data that will connect professionals to each other through the shared meetings, notes, and email activity
Conclusion
Linkedin can be considered as a combination of Facebook and Indeed. People upload their resume details to a platform like Indeed but connect and interface with the platform as a social media like Facebook.
This powerful combination is what makes LinkedIn the strong corporate social media platform and mammoth that it is today.