Want to know how does Houzz make money? In this article, we'll explore the business model of Houzz.com, the revenue sources, and understand what makes this a highly profitable business.
Houzz is a platform that brings together homeowners, home improvement professionals, and home product sellers. It helps creators and designers share their ideas which interested people can look at. You can also book a professional to design the interiors for your home, buy designer furniture, and much more.
That's a lot of things Houzz does. Let's understand them independently. But first, a quick summary for you.
How does Houzz make money?
Houzz makes money from three major sources – Houzz Pro subscription, the Houzz Credit Card, and their furniture marketplace. Of these, The Houzz Pro subscription accounts for a majority of the annual earnings.
Also read: How does Craigslist make money? [Business Model]
What is Houzz.com?
Houzz is an online community for home design, remodeling, decorating, gardening, and more. It's a great resource for homeowners and professionals alike.
The Houzz community consists of homeowners, designers, architects, and product manufacturers. Everyone can browse photos, products, and articles, and join the discussion forums to ask questions and share advice.
You can find inspiration for your next project, get advice from experts, connect with other homeowners and professionals, and shop for products.
Houzz has something for everyone who loves home improvement and design.
Houzz.com is founded by Adi Tatarko and Alon Cohen. They started the company in 2009 after they had their own home remodeling project. They were not happy with the online options available for finding inspiration and advice, so they decided to start their own website.
Today, Houzz is one of the most popular home renovation websites in the world. More than 40 million people use Houzz every month, and there are over one million active users on the site. Houzz has won numerous awards, including the "Best App" award from Google Play Award.
How Does Houzz Work?
The Houzz platform is designed to help you improve your home. You can use it to find ideas, connect with professionals, and buy products.
Houzz has three main features: Ideabooks, Boards, and Shopping.
Ideabooks are collections of photos that show the style of a house or room. You can use Ideabooks to find ideas for your home.
Boards are collections of products that you can buy on Houzz. You can use Boards to plan your renovation project.
Shopping is a feature that lets you buy products from Houzz partners. You can use Shopping to get product recommendations and buy products online.
Ideabooks helped Houzz reach where we see it today. They started out with a simple website that allowed users to share the best interior design ideas they found on the web.
People could create their portfolio of ideas, and follow other Ideabooks for inspiration. As the userbase grew, Houzz.com saw an opportunity to get creators and interior designers to connect with homeowners who were looking for inspiration on their websites.
And with a single update, Houzz.com turned into a community-cum-marketplace for people interested in design and those who are professional interior designers.
As more people started sharing interior designs, Houzz identified the need for furniture that complemented these designs. And that's how the Houzz Shopping section was born.
How Does Houzz Make Money?
Houzz makes money by enabling professionals to get access to customers who need their services locally. But that's just one part of their business model.
Before we begin, here are some numbers:
According to Incfact, Houzz makes over $500 million in sales every year.
According to Techcrunch, Houzz has 1,800 employees.
According to Crunchbase, Houzz received a total funding of $613.6 million from 22 investors over 8 funding rounds.
Now, let's understand how the entire business works to make money and sustain itself.
1. Houzz Pro membership
Houzz Pro is a subscription-based service that gives professionals access to exclusive tools and resources on Houzz. With Houzz Pro, professionals can connect with homeowners who are looking for help with their home improvement projects.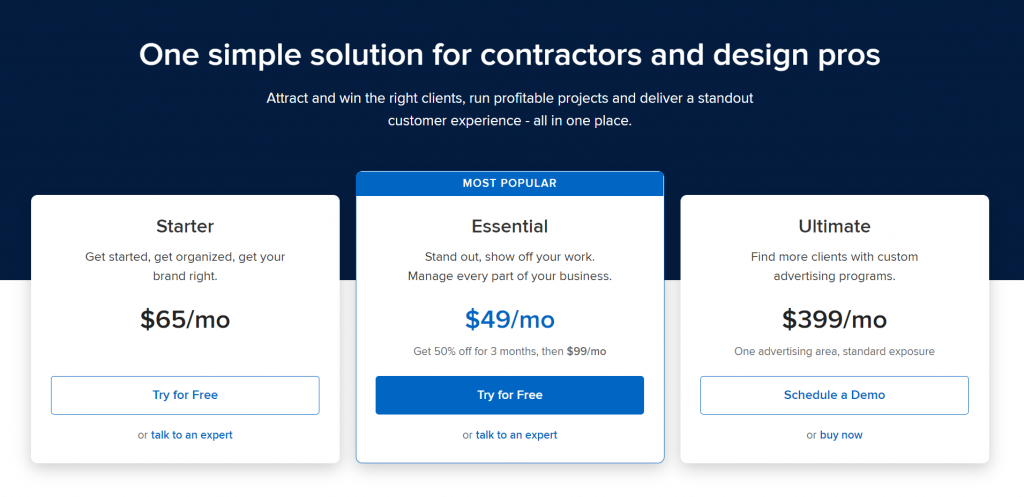 Houzz Pro members have access to the following features:
Better Lead Management
Client Dashboard
Live Connections with clients
Premium Profile display
Choice of project budget tier
and much more…
While businesses can get their brands listed for free, the benefits of Pro far outweigh the costs considering the prices of interior design.
Hence, this is identified as the major revenue source for Houzz.com
2. Houzz Credit Card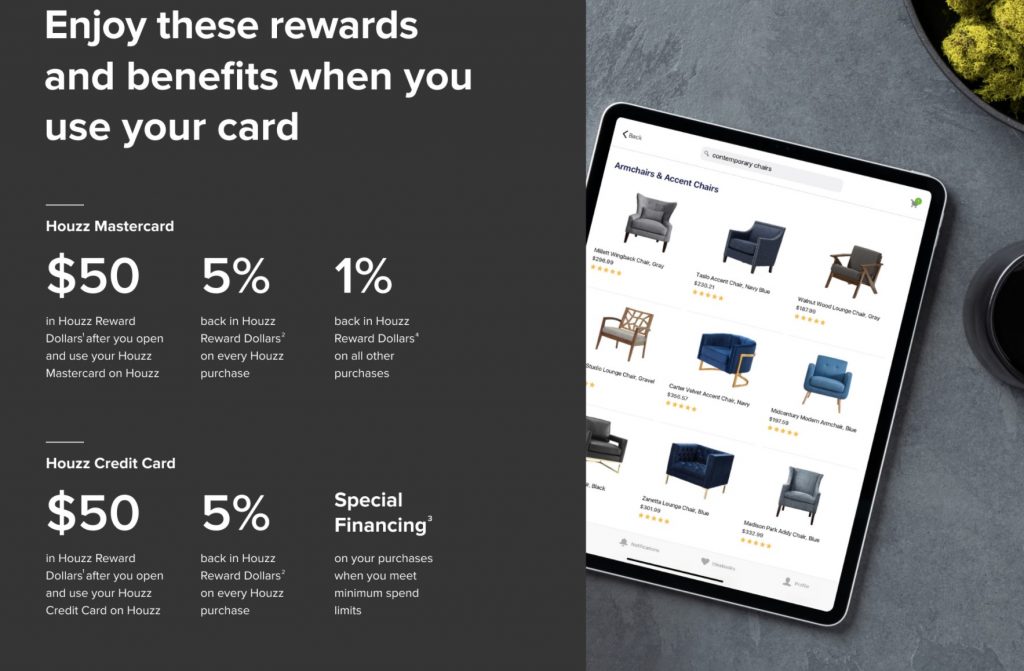 Houzz recently started offering a Credit Card to finance your home remodeling projects. It offers some lucrative benefits for using the Credit card for the same services that a user would have anyway availed.
They offer a 5% cash back for every purchase users make on the Houzz marketplace. Apart from that, users can also get special financing options after meeting the minimum spend limits.
The Houzz credit card is issued by Comenity Capital Bank. It is a $0-annual-fee Houzz Mastercard and Houzz Credit Card that comes with slightly different benefits that are most useful to people who plan to spend a lot of money on the site.
Houzz makes money from credit cards by charging up to 27% APY. Users are also charged late fees if they fail to pay.
3. Houzz Furniture Marketplace
Houzz offers furniture and other products for interior design. The Houzz online store is a great place for finding home improvement products. You can browse by category, style, room, or product type.
Houzz currently offers the following categories:
Furniture
Kitchen & Dining
Bath
Lighting
Living
Bedroom
Home Decor
Outdoor
Storage & Organization
Home Improvement
Holiday Decor
Whenever a product is sold through Houzz, they receive a 15% commission on the sales price. If you buy a $1000 table, Houzz will earn $150 from the sale.
4. Smaller Revenue Sources – Targeted Local Ads
Houzz offers targeted local ads that brands can run on the platform as Pro members.
They have a unique way of targeting local advertising that is very effective. Houzz first identifies the zip code for the area they are targeting. They then create a radius around that zip code and target all of the households within that radius. This allows them to specifically target homeowners who are interested in remodeling their homes.
Professionals can also target customers based on the type of remodeling service they're looking for, the budget, and their style preferences.
Houzz earns money for every targeted local ad that brands and professionals run on its platform.
Houzz Business Model
Houzz has a freemium business model. This means that the basic features of the site are free, but users can pay for premium features. Users can pay to get access to more design ideas or to contact professionals. Houzz also makes money by selling advertising space on its website.
After accounting for the total funding of $613 million, Houzz is worth $4 billion.
FAQs – How Does Houzz Make Money?
How much revenue does Houzz generate?
For every product sold on its website, Houzz earns a 15% commission. In total, Houzz makes over US$500 million in annual sales.
What is Houzz and how does it work?
Houzz is a website and mobile app that connects homeowners with home professionals to help them design, renovate, and decorate their homes. Homeowners can use Houzz to find inspiration for their home projects, connect with home professionals, and get advice on how to complete their projects. Home professionals can use Houzz to market their businesses and connect with potential clients.
Who issues the Houzz credit card?
The Houzz credit card is issued by Comenity Capital Bank. It is a $0-annual-fee Houzz Mastercard and Houzz Credit Card that comes with slightly different benefits that are most useful to people who plan to spend a lot of money on the site.
Does Houzz offer payment plans?
The Houzz Credit Card gives you the special financing options described above. You can pay no interest if paid in full within 6 months on a single item of $350 or no interest if paid in full within 12 months on a single item of $700.
Does Houzz accept Afterpay?
Yes! Simply select Afterpay as the choice of payment method at checkout.
How does Houzz make money?
Houzz makes money through the Houzz Pro subscription, their Houzz Credit Card services, and their eCommerce store. For every product that's sold on the Houzz marketplace, the company makes a 15% commission.
Conclusion
The Houzz business model is successful because it combines free and paid services. This allows users to explore the site for inspiration and ideas, and then purchase products and services through the site. We hope this answers the question "How does Houzz make money". The freemium business model helps to drive traffic to the site, which can then be monetized through other services. Houzz has been able to grow quickly and become the leading home design site because of its effective business model.
You may also like: How Does Klarna Make Money? [Business Model]