Unacademy is an Indian edTech startup based in Bangalore. In this Unacademy business model case study, let's see how Unacademy makes money?
Unacademy Business Model – How does Unacademy make money?
Unacademy makes money from 3 sources: Monthly subscriptions, Youtube ads, and live sessions with educators.

Unacademy follows a freemium business model. Students can view most of its content for free on Youtube. For advanced courses and live sessions, students can join the PLUS or ICONIC membership on Unacademy.
Originally launched as a YouTube channel by Gaurav Munjal in 2010, Unacademy was officially launched in 2015 by Gaurav Munjal, Roman Saini (EXIAS), and Hemesh Singh.
The company has achieved impressive growth today, with over 18,000 teachers and over 15 million users using the platform over the years.
After a brief look at the company, let's take a look at the Unacademy business model.
What is Unacademy?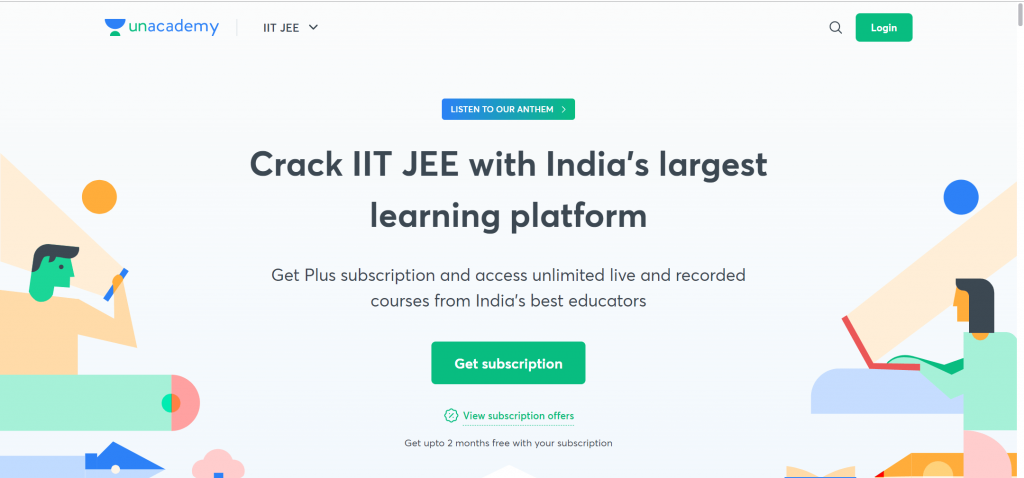 Unacademy is the largest Edtech company in India founded in 2015.
What started out as a YouTube channel created by Gaurav Munjal and founded by Dhiraj Mina has joined the list of Unicorn startups in September 2020 after raising $150 million from Softbank and other existing investors.
Unacademy is revolutionizing the EdTech industry by providing an online platform for educators and passionate learners to connect with each other.
"We are the largest learning platform in India"
The Unacademy slogan also reflects its promise to change the way students learn. Gaurav Munjal is currently helping Indian students study for free with some of the best teachers in India.
It's the only startup in India helping students for free for recorded courses.
To make money, Unacademy charges a fee for live classes which is paid out to the tutors, and part of that fee is taken by Unacademy as platform charges.
This is the only platform where we can search for teachers based on our needs. You can learn and understand the same subject from multiple tutors to find the one that you work with best.
How does Unacademy work?
Unacademy is a free-first edTech platform. Videos on their Youtube channel and all videos uploaded to their platform are completely free and can be accessed without registering on the platform.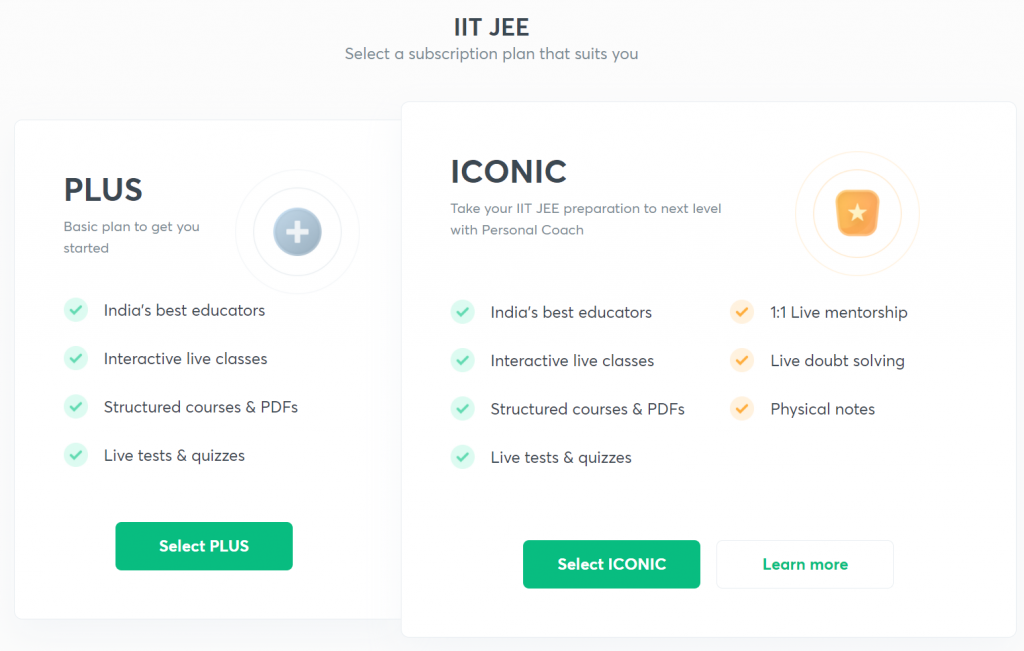 To get mentored by specific teachers, you need to join their Plus or ICONIC membership which offers live classes and doubt solving sessions, test series, and mockups that will help you expand your knowledge in all areas.
The Unacademy Business Model
Unacademy has a freemium business model. It offers most of its content for free on its Youtube channel and website and charges a monthly fee for advanced courses.
Before diving into the Unacademy business model, here's what Gaurav Munjal, the founder of Unacademy, says about how Unacademy makes money.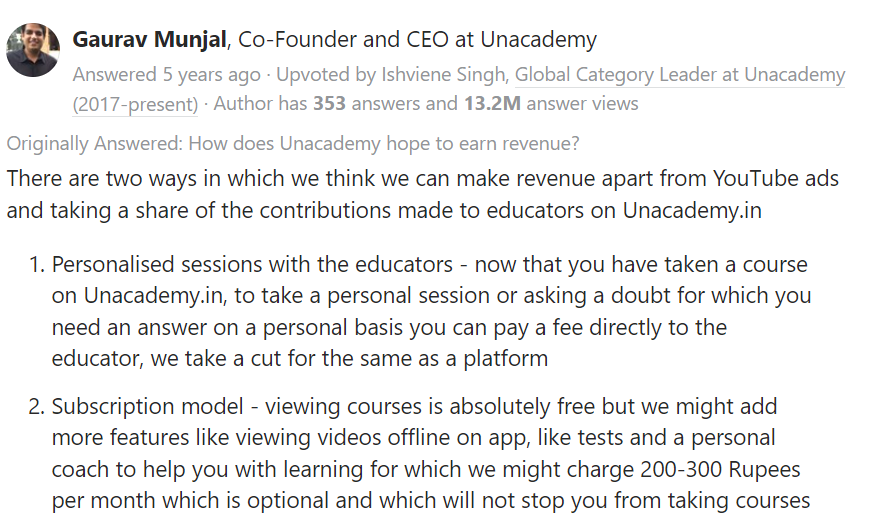 Unacademy has created a whole new ecosystem in the edTech space.
Rather than creating content manually which would have slowed down their progress, Unacademy took the route of user-generated content. They created a marketplace for teachers and students to connect with each other.
Think of Unacademy as an educational social media platform.
Students can follow and like their teachers, and the teachers with a higher number of followers and watch time get more visibility on the platform for further reach.
There are currently 2 categories of learning materials available on the Unacademy platform.
Pre-recorded video sessions: Educators record tutorials on different subsjects on the platform. This content is available for free on Unacademy and on their Youtube channel. Some of the advanced courses like UPSC and IIT JEE, however, are available only to paid members.
Live sessions: Tutors host live doubt solving and mentorship sessions on Unacademy for students. These sessions are paid for directly to the tutors of which, Unacademy takes a small cut as platform fees.
All learning material is created by freelance tutors who are paid by Unacademy based on the number of views.
Since there can be many freelance tutors creating courses in parallel, Unacademy can focus on marketing and bring in students to increase views.
This lets freelance tutors earn a living from their teaching while helping students learn different subjects from their favorite teachers at the comfort of their homes.
Also read: Swiggy Business Model: How Does Swiggy Make Money?
How does Unacademy make money?
There are two ways in which Unacademy makes money apart from YouTube ads and taking a share of the contributions made to educators on Unacademy.
Live classes – To take a personalized lesson from a tutor or to have a doubt solving session, you can pay directly to the tutor you like and Unacademy takes a small cut as platform fees.
Monthly subscriptions – Most courses are completely free. But for advanced courses like UPSC, students can opt for a monthly subscription on Unacademy.
Unacademy Financials
Unacademy's revenues quadrupled from INR 21.8 crore ($2.93 million) in the fiscal year 2019 to INR 86 crore ($11.56 million) in the fiscal year 2020.
Unacademy reported a net loss of about INR 300 crore ($40.34 million).
Unacademy recorded expenditures of INR 112 crore ($18 million), just over 10% of its inflows of approximately Rs 12 crore ($1.7 million) in the fiscal year 2019.
The company's losses surged from INR 23.58 crores ($2.8 million) to around INR 91 crore ($15 million) in the same year. This is an increase of 290% compared to the fiscal year 2018 when the company only spent INR 28.82 crore ($3.3 million) in expenses.
Unacademy Founders
Unacademy was founded as YouTube in 2010 by three friends Gaurav Munjal, Roman Saini, and Hemesh Singh to transform the Indian education system and later registered Unacademy as a company in 2015.
Gaurav Munjal is Chief Executive Officer of Unacademy. He founded Flatchat before Unacademy which was sold to Commonfloor in 2014.
Roman Signee, Chief Educator of Unacademy. He passed the AIIMS exam in 2016 and the civil law exam in 2013, but quit IAS to reinvent the Indian education system.
Hemesh Singh is the CTO of Unacademy. He also served as CTO at Gaurav Munjal's Flatchat.
Unacademy Team
Unacademy has more than 4,500 employees who work day and night to create an integrated platform for users.
What does the name Unacademy mean?
Unacademy suggests that this learning platform is very different from traditional teaching methods, unlike institutions or academies that can be used by everyone.
Unacademy Slogan – "India's Largest Education Platform"
Unacademy Net Worth – As of August 17, 2021, Unacademy was worth $3.44 billion.
Unacademy Funding Rounds
As of August 2021, Unacademy raised a total of $837.5 million in 11 funding rounds from multiple investors
| Funding Date | Stage | Amount | Investor |
| --- | --- | --- | --- |
| May 2016 | Seed | $500K | Blume Ventures, Rajan Anandan, Sumit Jain, and others. |
| 13th January 2027 | Series A | $4.5 Million | Nexus Venture Partners, Blume Ventures, Stanford Angels and Entrepreneurs, and others. |
| 13th September 2017 | Series B | $11.5 Million | Sequoia Capital, Nexus Venture Partners, Blume Ventures, SAIF Partners. |
| 16th July 2018 | Series C | $21 Million | Elevation Capital, Sequoia Capital (India), Nexus Venture Partners, Blume Ventures, SAIF Partners. |
| 26th June 2019 | Series D | $50 Million | Steadview Capital, Sequoia Capital India, Nexus Venture Partners, Blume Ventures, Sujeet Kumar, and others. |
| 19th February 2020 | Series E | $110 Million | General Atlantic, Blume Ventures, Facebook, Flipkart, Sequoia Capital India, Kalyan Krishnamurthy, and others. |
| 2nd September 2020 | Series F | $150 Million | SoftBank Vision Fund |
| 25th November 2020 | Venture Round | – | Dragoneer Investment Group, Tiger Global Management |
| 13th January 2021 | Secondary Market | $50 Million | – |
| 23rd February 2021 | Venture Round | | Sachin Tendulkar |
| 1st August 2021 | Series H | $440 Million | Temasek Holdings |
Unacademy originally received its first $500,000 in seed funding from Blume Ventures in May 2016. The latest funding round was a $440 million, Series H round by Temasek Holdings on September 2, 2020.
One of the Investor's message
We were thrilled with how rapidly Gaurav (Munjal) and the team converted some of our collective product brainstorming sessions into an amazing live-streaming product and a subscription business for the test prep market,"

Shailendra Singh, Managing Director of Sequoia Capital.
Key Takeaways – Unacademy Business Model
Unacademy is an exponentially growing startup with a really great freemium business model. It captures the market with free content through YouTube and on their website. Unacademy also allows users to log in and keep track of their progress.
With that data, Unacademy can promote relevant upcoming courses to the students. Once students are hooked, the company displays their subscription offers and live sessions to start earning money.
With such an elegant business model, Unacademy has paved way for many upcoming businesses in this sector.