Kickstarter is one of the most well-known crowdfunding startups in the world. But how does Kickstarter make money? Are there any fees to run your own crowdfunding campaign on Kickstarter? Let's explore the Kickstarter business model today!
How does Kickstarter make money?
Kickstarter makes money by charging a 5% fee on the raised amounts from crowdfunding campaigns. This is the only revenue source for Kickstarter. Gaming or Tech niches raised the most money on this platform.
Per recent statistics, Kickstarter has pledged $5,172,409,587 ($5.17 billion) to their projects. There are 186,040 successfully funded projects and 18,328,744 total backers.
What is Kickstarter's Crowdfunding Business Model?
Startups need money to execute ideas on a large scale. And getting money from the Sharks (or any Angel investor, VC, or PE firm) isn't as easy as they show it on TV! Also, a lot of entrepreneurs don't want to give away shares to investors right in the beginning. But they still need the money.
Crowdfunding is the solution.
Crowdfunding on Kickstarter
Entrepreneurs raise money to create a fundraising campaign on Kickstarter to start a business.
Thousands of people (called backers) who want to see the idea realized, fund small amounts to the fundraising campaign. These amounts range anywhere between $5 to $1000+ and add up to tens of thousands of dollars if the campaign receives enough attention.
900 ideas have been funded with $1+ million on Kickstarter. These are the outliers in the system. However, a wide majority of the campaigns raised tens of thousands of dollars on Kickstarter.
How Does Kickstarter Work for Investors/Backers?
Each funding amount has a set of perks added by the campaign owner to increase funding.
For example, a $5 funding may receive a personalized thank you note while a $1000 funding may receive one of the first batches of the product after release.
Some fundraisers may also give out a small share of the company to those who invest more.
However, as it goes with most investments, Kickstarter is a risky bet too. You're essentially betting on the entrepreneur's capability to execute their ideas.
Do Backers Make Money on Kickstarter?
Yes backers make money on Kickstarter depending on the perks allotted for the campaign. If a campaign offers shares in return for the funded amount, you could make money on the sale of shares at a future date.
But, backers are more likely to get early access to a product that could become a hit in the future. It's also a perk to have supported someone's ideas which goes huge. And that's one of the major reasons why so many people from all walks of life come down to become a part of an entrepreneur's journey.
How to Back a Project on Kickstarter?
It's easy to back a project on Kickstarter. To pledge for a campaign:
If you already have a Kickstarter account, log in to the account or create a new one. You can also choose to pledge or back a fundraising campaign as a guest
Visit the project/campaign that you'd like to back. On the right sidebar, click on the green "Back this project". You can choose to back a project for a reward or click on "Pledge without a reward" if you don't want anything in return.
Once you select the tier, you can then proceed to the payments page and confirm the payment.
Elaborate Answer – How Does Kickstarter Make Money?
Let's go over the fee structure for Kickstarter and the amount of money they make overall.
Crowdfunding Campaign Fees on Kickstarter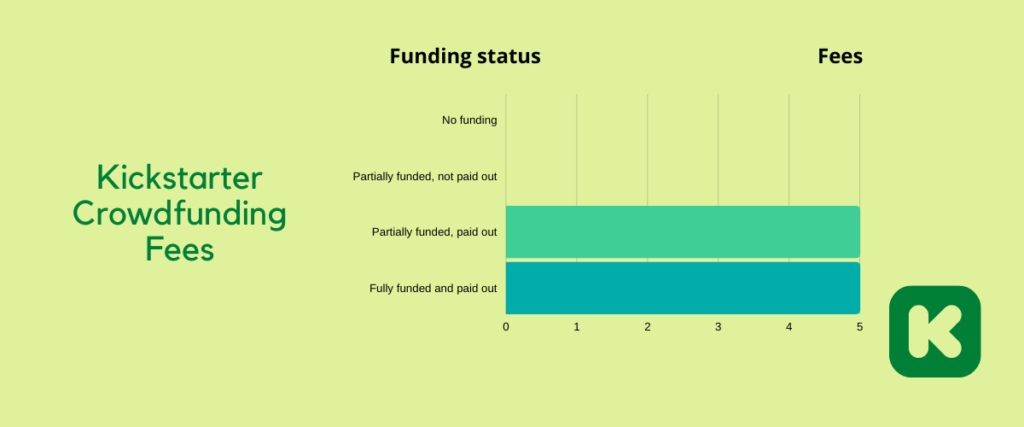 Kickstarter charges a 5% fee for successfully funded campaigns. But what happens to campaigns that receive little to no funding? When does kickstarter charge its fees?
There are four possibilities when you create a crowdfunding campaign on Kickstarter.
You receive no attention and raise $0 in funding.
Your campaign gets partially funded but decide to let go and not cash out
You decide to cash out the partially funded amount
Your campaign is a hit you raised hundreds of thousands of dollars!
Let's see the fees for each possibilty:
If you receive no attention and raise $0 in funding you don't pay any fees to Kickstarter in this case
If your campaign gets partially funded but decide to let go and not cash out, you don't need to pay any fees to Kickstarter
If you decide to cash out the partially funded amount, you pay 5% of the total funded amount to Kickstarter
If your campaign is a hit and you raised hundreds of thousands of dollars, you pay 5% of the total funded amount to Kickstarter
Apart from these fees paid to Kickstarter, the payment gateway also charges a 3-5% fee on the funded amount. So expect a 10% total deduction on the raised amount.
How Much Money Does Kickstarter Make on an Average?
In the lifetime of the company, Kickstarter has pledged more than $5 billion for startups and entrepreneurs. A 5% fee on the same amounts to more than $258 million. Being a startup with only 140 employees, Kickstarter's revenue is brilliant!
Apart from the fees collected in revenues, Kickstarter has raised $20 million since inception from multiple Venture Capital firms and has a post funding valuation of $92.05 million.
Top 17 Kickstarter Competitors of 2020
Because the crowdfunding business model is such a profitable one, there are many companies that have a similar business model that picked up in popularity.
| | |
| --- | --- |
| Kickstarter's Competitor | Website |
| CircleUp Network | www.circleup.com |
| Patreon | www.patreon.com |
| Kickfurther | www.kickfurther.com |
| Community Funded | www.communityfunded.com |
| Crowdfunder | www.crowdfunder.com |
| GoFundMe | www.gofundme.com |
| VentureCrowd | www.venturecrowd.com.au |
| Fundly (Acquired) | fundly.com |
| Prizeo US | www.prizeo.com |
| DeRev | www.derev.com |
| BackerKit | www.backerkit.com |
| Classy | www.classy.org |
| Ideame | www.idea.me |
| Indiegogo | www.indiegogo.com |
| PledgeCents | www.pledgecents.com |
| Pozible | www.pozible.com |
| SeedInvest | www.seedinvest.com |
Kickstarter competitors of 2020 according to Pitchbook data
Ending Notes
That's how Kickstarter makes money! I hope you have a good idea of the Kickstarter business model now and know exactly how crowdfunding businesses work. If you love business models, have a look at how Google makes money and also check out the Gmail business model. We've also covered some of the interesting business models of applications like Duolingo and Discord.
Do let us know if you want to cover any other business models!