How does Duolingo make money? The Duolingo business model has been one of the most brilliant ones out there. They made money by teaching you new languages. Interesting isn't it?
I thought so too! When I started learning languages, I used Duolingo. And since it is completely free, I wondered how they generated any revenue for themselves. With some searching around, I figured exactly what they do to earn revenues.
How does Duolingo make money?
Duolingo makes money with Duolingo Plus subscriptions. It offers an ad-free experience to users along with full offline access to all the language lessons. They also generated $26 million in revenues with display ads from their free users.
What is Duolingo?
Duolingo is one of the very well-known online language learning apps across the entire Android and iOS ecosystems. Their branding and word-of-mouth marketing has gained them the popularity that no other app achieved.
The app allows students to take up language courses like:
English for Spanish Speakers
Spanish
Japanese
German
French
Mandarin
Russian
Portuguese
Norwegian
and more
The full list of languages can be found on their app as well as their Wikipedia page. With a lot of interactive learning, the app quickly gained popularity within the language learning community.
Along with that, Duolingo raised $150 million in funding from some large investors like Google Capital, Kleiner Perkins Caufield & Byers, and others.
How Does Duolingo Make Money if it's Free?
They started out, and have continued to stay a free language learning app. But in the very early stages, their business model was very different. I'd take the liberty to say, that it was brilliant!
What was brilliant about their business model? To generate revenues while keeping the app free, Duolingo provided their students with real-world text snippets to translate using their "Duolingo Immersion" module. These text snippets were put together by editors and sent to the clients who requested the text to be translated. The money generated by crowd-sourced text translation was their main revenue generator.
But now this business model has changed completely. With the new investors on board, and after attaining unicorn status, Duolingo now generates revenues in a completely different manner. So how does Duolingo work? Let's begin.

In 2020, they are no longer generating revenues by translating text for clients. Instead, they're now leveraging ad revenues and utilizing a freemium business model like many other SaaS companies out there.
1. Premium Subscription
Only 1.75% of the 300 million Duolingo users subscribe to the premium version(source: Forbes) but that accounts for $84 million in annual revenues for the company.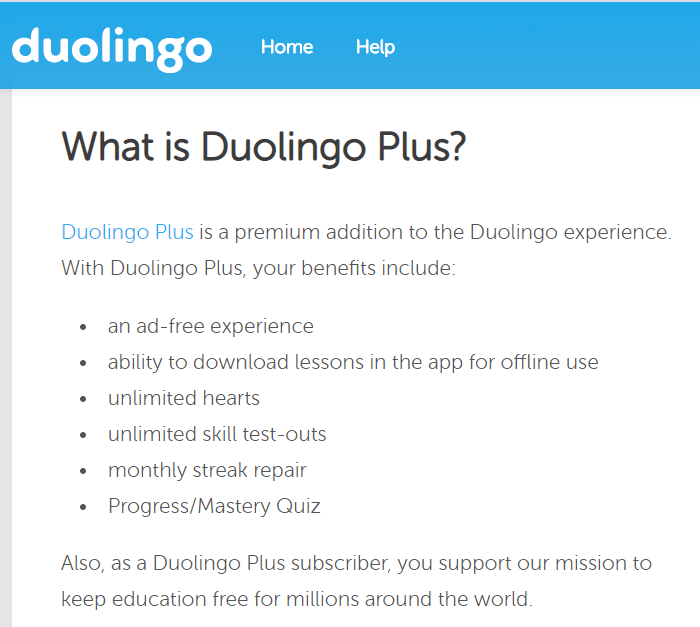 That comes up to 84% of their annual revenues for 2019. The premium subscription offers multiple benefits including an ad-free experience, ability to download lessons for offline use, and more. The image above is a list of all the benefits that you receive once you sign up for Duolingo premium.
2. Ad Revenues
Coming to the other part of their business model, Duolingo allows users to learn languages for free. They generated $100 million in annual revenue in 2019 (source: Pitchbook). With $84 million coming from the subscription payments, the ad revenues account for the remaining ~$26 million.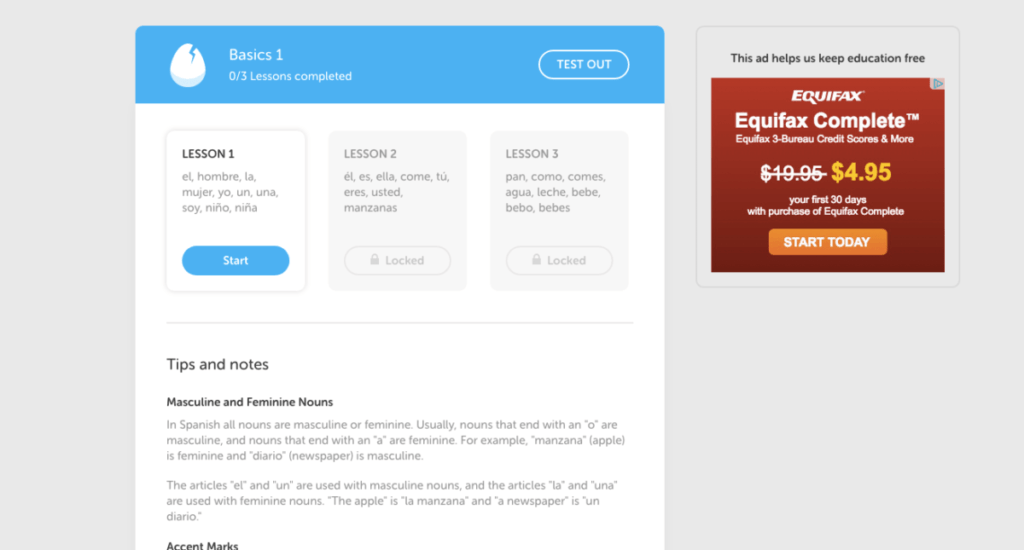 The ads are unobtrusive to ensure a superior application user experience. So, how does Duolingo make money with ads? Since users on the app market love free apps, they gladly support the developers by letting the ads run within the app. There will always be users who crack apps but the percentage of users who do so are way too small to consider within their revenue figures.
Duolingo also gains a lot of word-of-mouth advertising from its users. The app's gamification lets its users share their language learning success on social media which in turn gains them further exposure. This kind of marketing is very similar to how Etrade makes money by capitalizing on its user evangelists to market the product for them.
Duolingo Business Model – The Marketing Strategy
After looking through their revenue generation models, we know exactly what Duolingo's business model is. But how did Duolingo reach the 300+ million users?
Luis von Ahn is crazy about designing the product right. And it's no wonder that the app has been designed really well in terms of usability, speed, features, and experience since the company spends more than 50% of its budget on engineering and 17% on product design.
Duolingo introduced a concept of "learning streaks" in their app which allowed the users to know how many days in a row, they've consistently used the app to learn something new. Streaks are some of the most shareable concepts for social validation, and that made people spread awareness for Duolingo. Because of the time and money that was spent on designing a very interactive educational product, their marketing was done by their users!
This, in the real sense, appears to be "Build a superb product, and they'll come".
How much money does Duolingo make?
As per their recent financial figures for the year 2019, they generated $100 million in revenue from premium subscriptions and advertising. The currently known employee count is 250 with over 300 million users on board.
Duolingo SWOT Analysis
I started analyzing Duolingo to understand their strengths, weaknesses, opportunities, and threats. Here's a SWOT analysis for Duolingo.
Strengths
– Free access
– Gamification increases user engagement
– Streaks make people use the app regularly
– Unobtrusive advertising
– Easy to sign up and start
Weaknesses
– Quite a few noticeable bugs in the app
– Lacks personalization
– Very generic language learning
– Can't expect to become a fluent speaker with this
– Offline available for pro members
Opportunities
– Social Media outreach
– Can venture into more educational fields
– B2B relationships can be tried for (this is happening now)
– Leverage Artificial Intelligence/Machine learning for personalization
Threats
– High user abandonment due to lack of motivating rewards
– No personal tutors onboard for solving student questions
– Learning methods of Duolingo are motivating, but ineffective
Duolingo SWOT analysis
Duolingo Business model SWOT analysis – How does Duolingo make money?
Final words…
And that brings us to the end of this article. I had a lot of fun learning about this business model and understand "how does Duolingo make money" even after offering everything for free. The Duolingo business model was indeed a unique one when they started out. If you're interested in finding out about some more interesting business models, do have a look at two of our recent write-ups on how does Gmail makes money and how does Etrade make money.
Stay tuned as we cover more business models!