Shopify has enabled millions of individuals to start their own eCommerce business easily. But how does Shopify make money and what is its business model? Let's dive into this amazing business and see how it makes over $89.9 million in monthly recurring revenues!
How does Shopify make money?
Shopify makes money through its monthly subscription plans. Users pay a monthly fee to create their Shopify stores. Shopify also charges 0.5% to 2% in transaction fees for all payments that are made on any Shopify store adding to the revenue sources for the company.
There's something Shopify is doing differently to make so much money every month.
And the most amazing part of the business is that all their revenues are sustainable and recurring.
Let's get started with understanding the business model of Shopify. But first, what exactly is Shopify?
Recommended read: How does Discord make money?
What is Shopify?
Shopify is an eCommerce platform that enables aspiring eCommerce entrepreneurs to start their own online store quickly and easily!
But what does Shopify exactly do?
More entrepreneurs around the world are choosing Shopify to launch and grow their businesses, and for good reason. Our singular focus is on making entrepreneurship easier – and making it easier for entrepreneurs to succeed. Merchant sales growth on our platform accelerated in the first quarter as merchants leveraged our modern commerce technology, which helps them compete in any retail environment and engage directly with their customers wherever they are."

Harley Finklestein, Shopify President
With the world turning to online shopping, it only makes sense for businesses to sell online. But there's a lot involved in starting your own store.
You have to integrate the payment system, add products, handle your inventory, manage shipping and refunds, and more. To top it off, most existing solutions were difficult to use, very expensive, or both.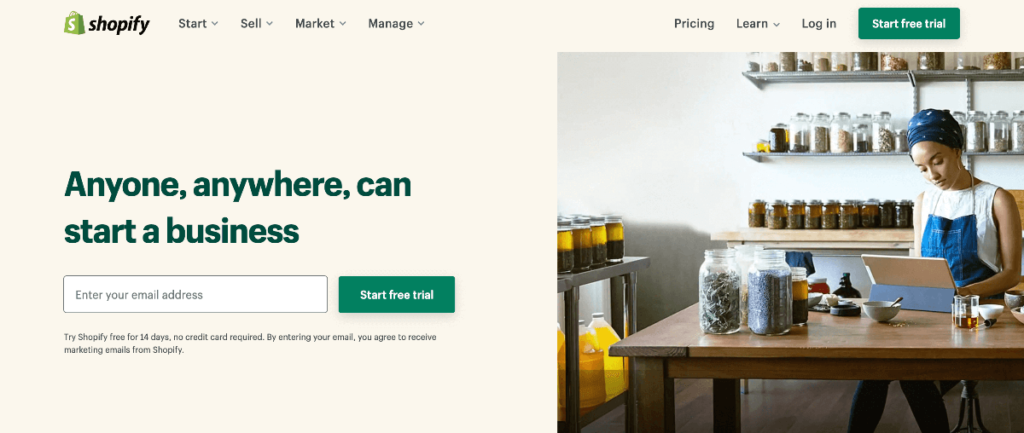 Shopify allows aspiring eCommerce entrepreneurs and existing brick-and-mortar business owners to start their own online store with very little fuss.
Once you subscribe, you can select a theme, add the products and their prices, and enter your banking details. That's all you need to begin selling!
Shopify stands true to its tagline – "Anyone, anywhere, can start a business".
It creates an ecosystem where the payment gateway, themes, apps, and POS systems are offered by Shopify to make online business seamless.
And it does so in a very profitable manner. So, let's jump into understanding how Shopify makes money and what are the different revenue sources.
Recommended read: How does DuckDuckGo make money?
How does Shopify work and make money?
Shopify is a cloud-based eCommerce platform that charges a monthly subscription fee to store owners to run their online stores. Once you sign up for a subscription plan, you can begin creating your store.
Getting started with a Shopify store is really easy:
Sign up and connect your domain to Shopify (the steps to connect will be provided to you)
Select a theme for your store. You can choose between free and paid themes
Add your products, descriptions, their prices, and other required details
Customize your homepage to your liking in a simple drag-and-drop builder.
Add your payment methods and publish your store
Because Shopify makes it so easy for anyone to start a store, there are millions of users building Shopify stores.
As more entrepreneurs jump onboard and sign up for a subscription plan, Shopify makes recurring revenue as long as a store is live.
Users can also upgrade to Shopify plus which offers added benefits and faster support to the users.
Shopify makes money from their store subscriptions. As more users get to know about Shopify, the monthly recurring revenue for Shopify increases.
What is the business model of Shopify?
The Shopify business model is made up of three parts:
Business owners and eCommerce entrepreneurs
Shopify online ecosystem
Offline ecosystem
Shopify Partners
Let's look at each individual aspects of the Shopify business model in detail now.
1. Business owners and eCommerce entrepreneurs
The demand for online stores is higher than ever.
The pandemic situation made everyone in the world realize how important eCommerce is. Businesses that had never considered going remote were forced to innovate. And so did brick-and-mortar store owners.
Lots of entrepreneurs who were selling on Amazon or eBay for the visibility jumped ship to start on their own. And Shopify facilitated that!
Shopify takes a smaller cut from the transactions, compared to a 10-20% cut from the retail price on Amazon. And this became more of a reason for business owners to switch over to Shopify and build their own brand.
2. Shopify Online Ecosystem
Shopify not only created an online eCommerce platform, it built an ecosystem. An ecosystem where everything you need is available within Shopify and integrates seamlessly. For example, if you need an email marketing tool, you only need to choose one of the apps from the Shopify store.
All the needs of a store owner are fulfilled by an app. And since Shopify created an open app development system, there are hundreds of thousands of apps suited for all businesses.
Shopify allows app developers to charge for these apps which in-turn incentivises developers to create even better apps. Shopify charges 20% on the price of the app and gives 80% of it to the developers. So developers get higher visibility in a marketplace that is ready to buy, and Shopify makes additional revenues without added maintenance costs!
Shopify Payments are integrated within your store. As a store owner, you only have to enable that on your dashboard.
You can have additional payment methods but the barebones setup of your Shopify store can be started out without much effort.
3. Shopify Offline Ecosystem
Apart from the online payments, Shopify also provides offline POS machines for businesses that operate online and offline. This allows businesses to look at their total income on the Shopify dashboard making it seamless to opt for the Shopify POS machines.
In return, Shopify earns additional revenue from offline sources as well. Since it makes it easy for business operations to become streamlined, more and more businesses are opting for Shopify.
4. Shopify Partners
Shopify has a 20% lifetime recurring commission for its partners. A user referred by a Shopify partner will continue to generate revenue for the partner as long as the store is active. And considering that Shopify users tend to be serious about starting their business, the user retention is very high too.
This is why the number of users actively promoting Shopify on different platforms is a lot higher than many other platforms.
Along with the marketing that Shopify is able to do on its own, these partnerships help exponentially scale Shopify and reach more users than a company or a marketing team alone can.
How does Shopify make money? (Revenue sources)
Now that we understand how Shopify works, let's take a look at the different revenue sources of Shopify. Basically, Shopify makes money with these 5 major revenue sources:
Shopify Subscriptions
Transaction fees
Merchant Solutions
Marketing Tools
Shopify Capital (part of merchant solutions)
We'll take a look at these revenue sources in detail and understand how Shopify earns money overall.
1. Shopify Subscriptions
Shopify charges a monthly subscription starting at $29/month for the Basic plan. The higher plans allow for a lower transaction fee and better reporting capabilities, and shipping rates calculator for third-party apps.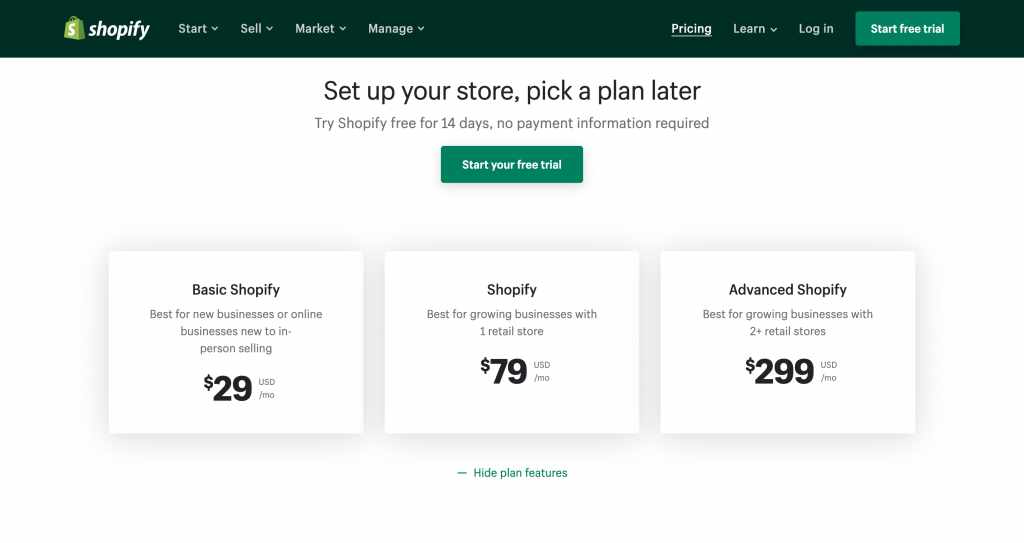 You can start off by signing up for the trial and work on building your store. The total contribution of Shopify Subscriptions is at $55.6 million in Q1 of 2021 of which Shopify Plus contributed $23.1 million. Thee remaining amount in the MRR was part of the Shopify standard plans and the Retail POS Pro subscriptions.
2. Transaction fees
Each subscription plan has a set transaction fee. The basic plan has a 2% transaction fee for all payments done through Shopify Pay. As you go higher on the $79/month and $299/month plans, the fees drop to 1% and 0.5%.
Shopify also offers Retail Point of Sale machines where the transaction fees are charged for every transaction and the cumulative sales show up on your Shopify store dashboard.
Also, all paid apps on the Shopify store need to pay 20% of the sale value to Shopify as a commission. So if a paid app costs $20/month, the developer gets $16/month while Shopify gets $4/month from all the users who purchase the app! That's a lot of money when you consider the number of paid apps on Shopify!
The transaction fees and subscription solutions combined account for $320 million in just the Q1 of 2021.
3. Merchant Solutions
The Merchant Solutions for Shopify include Shopify Payments, Shopify Shipping, and Shopify Capital along with the newly added Shopify Fulfillment Network and 6 River Systems. While the new additions
These solutions contributed $668 million in the first quarter of 2021 and the amount continues to grow. However, the caveat with these solutions is the higher costs of maintaining them.
From the gross revenue earned from Merchant solutions, the cost for fulfilling the orders and providing loans to customers is at a high $371 million according to their financial report for Q1 2021.
4. Marketing tools by Shopify
Most of the marketing tools offered by Shopify are free. Email marketing, Google Ads, Facebook Ads, Shopify Ping, etc. are free for you to start with. But Shopify is an affiliate partner with these companies and earns a small commission when a new user signs up with any of these programs.
The commission is offered by the partner companies as you're much more likely to start spending on Ads or email marketing setups once you begin running your Shopify store in full capacity
5. Shopify Capital
Shopify Capital is a lending service recently started out by Shopify for small business owners. It offers loans to existing Shopify store owners for expanding and marketing their stores and scaling their business with new employees.
The money lent to business owners is a regular loan like banks and the borrowers pay interest on the loan. Merchants from the US, UK, and Canada received a cumulative amount of $308.6 million in cash advances and loans from Shopify capital in the first quarter of 2021. That's a 73% jump compared to the same period last year.
Summary of the Shopify Business Model
FAQ
Does Shopify make a profit?
Absolutely! Shopify is an insanely profitable business with over $44 million in monthly recurring revnues. A majority of Shopify's revenue is generated from the subscription business and transaction fee.s
How does Shopify get paid?
Shopify charges business owners a monthly fee to start their store. Along with that, every transaction that takes place using the Shopify Payments system has a transaction fee. This is another source of revenue for Shopify. They also sell physical payment systems which have a per-transaction fee, much like their online payment system. Shopify also offers funding for business owners through Shopify Capital where they charge an interest
How much of your profit does Shopify take?
Shopify charges a 2.9% + $0.30 transaction fee for basic users. For "Advanced Plan" users, the transaction fees are 2.4% + $0.30. Apart from that, you also have to pay a monthly subscription fee to be able to sell online on Shopify.
Which is better, Etsy or Shopify?
The choice between Etsy and Shopify depends on your goal. Shopify is a great choice if you want to build a brand, scale your store, and have control. Etsy is good for those who want to sell to an existing audience and make money without the hassle of setting up a store at all.
How much money does Shopify make?
In Q1 of 2021, Shopify earned $89.90 million in monthly recurring revenues from all of the revenue sources combined. This amount is up by 63% from the same period in 2020.
Conclusion
Shopify is a brilliant take on an old solution. Woocommerce, Magento, and many other ecommerce platforms existed before Shopify. But none of them caught fire like Shopify did.
The framework that Shopify provides exactly caters to the new business owners. Most business owners simply want to get started with the least amount of friction. And existing solutions add a lot of steps before you can even get a simple product online to sell.
As Shopify was able to solve all the problems and much more, it reaps the rewards from the millions of customers that now host their stores on Shopify and generate millions of dollars in recurring revenues for the company.
We hope you enjoyed reading about Shopify and how it makes money. If you found this interesting, you may also enjoy reading how Google makes money.