1mg.com is an online pharmacy in India with multiple revenue streams. It has an interesting business model. So how does 1mg make money? What are their revenue sources? And is 1mg profitable? If you're wondering about the same, this 1mg case study is for you.
How does 1mg.com make money?
1mg makes money with online diagnostics and lab testing services. These account for a majority of their annual revenues. Online medicine delivery, B2B healthcare solutions, and subscription-based care plans form up the rest of their yearly finances.
At the end of the article, you'll know:
How 1mg.com works
How does 1mg make money
1mg.com Business Model
How does 1mg work?
If you can shop for your clothes, food, and electronics online, why not the necessities like medicine? That's where 1mg, the HealthTech company, comes into the picture.
1mg.com looks like a regular eCommerce store that sells medicine. But it's a lot more than that. The first noteworthy element is that 1mg's business is similar to that of Swiggy's business model.
1mg partners with licensed pharmacies from across the country, and delivers medicine at your doorstep.
How is your order fulfilled by 1mg?
You visit the app and place an order
The 1mg representatives visit the closest partner pharmacies
The items in your order are picked up from the pharmacy
The representative delivers the order to your home
With its branding and trustworthiness, 1mg has built confidence among customers. And that's why 1mg is accessible in 1000+ and has fulfilled 25 million orders since inception.
Apart from the partnership, they also work with businesses to handle healthcare for their employees, tie-up with insurance companies to offer affordable care to patients, and provide online diagnostics, and a lot more.
Let's explore the different revenue sources for 1mg.
How does 1mg make money?
1mg has 5 revenue sources as of 2020:
Lab and diagnostic tests
Online medicine order delivery
Doctor consultation
Healthcare Partnerships
Subscription-based care plans
However, as of their latest financial figures, the company has made a loss of INR 156 crore in 2019. 1mg is not profitable yet but has received a $100 million funding to sustain the business until it turns profitable.
1. Lab and Diagnostic Tests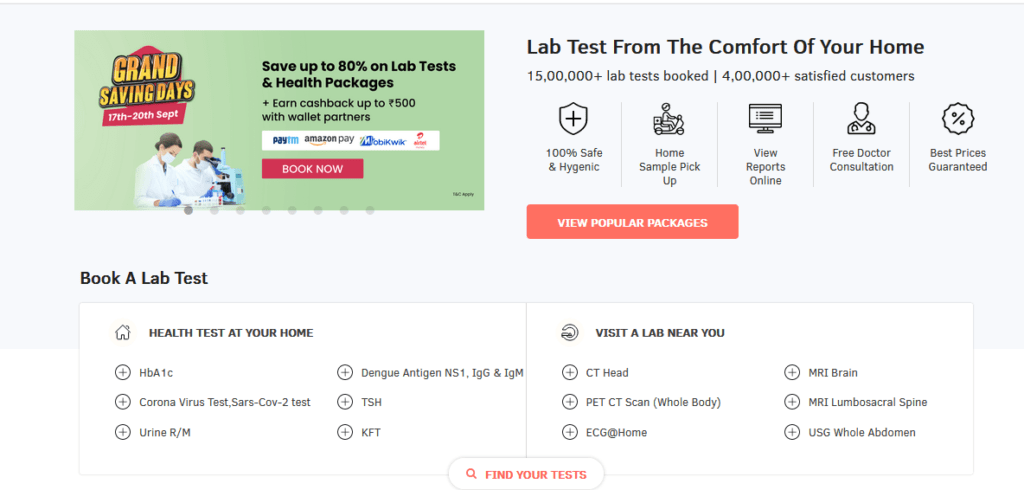 On their web platform, you have the option to order a lab or diagnostic test. The 1mg representative visits your home for sample collection, takes a small fee for the same. The sample is then sent over to the affiliated labs for testing.
You pay the fixed fees per test out of which a predecided commission is paid to 1mg for enabling the transaction. The lab earns the rest of the commission.
Currently, these online diagnostic tests and lab tests make up the majority of 1mg's revenues.
2. Online Medicine Orders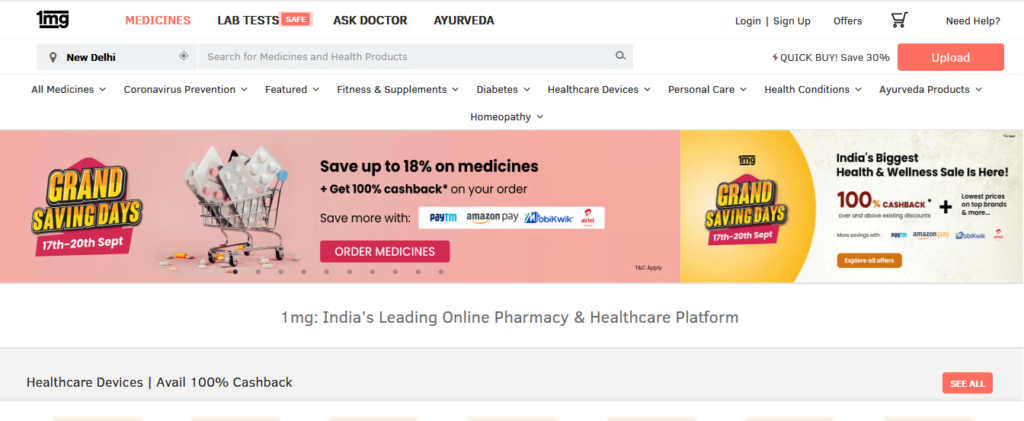 The founders of the company started 1mg to make medications accessible to everyone. They wanted to solve the problem of not having some important medicines available at local pharmacies.
But, this segment of their business hasn't picked up as well as they expected it and generates a lesser but still significant amount of revenue (38cr in FY 2019).
3. Doctor Consultation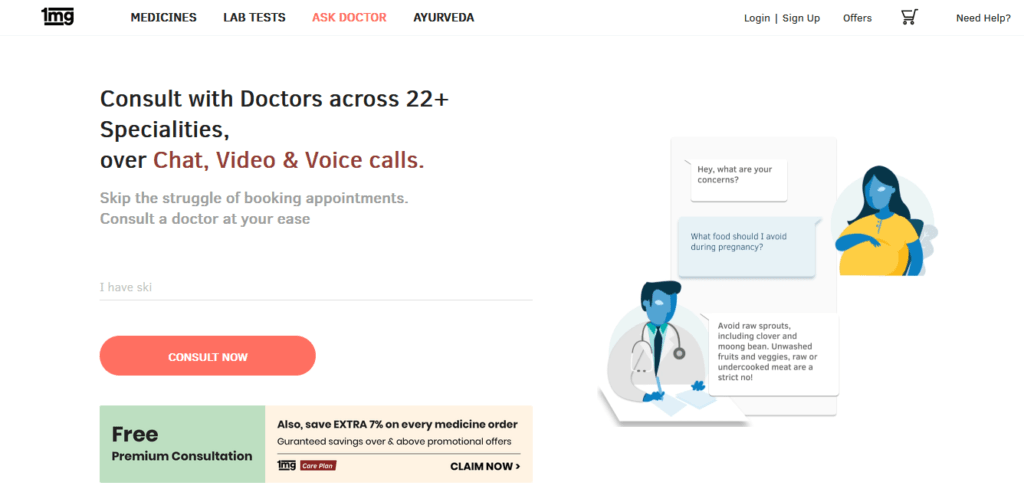 To diverge from the business, 1mg began offering online doctor consultations. This was in line with their existing business and revenue models and was a perfect addition.
You can ask questions to a doctor directly on the web without the need to go out of your house. The lockdown of 2020 has made people realize the importance of having a doctor available online to discuss any issues without visiting the clinics.
4. Healthcare Partnerships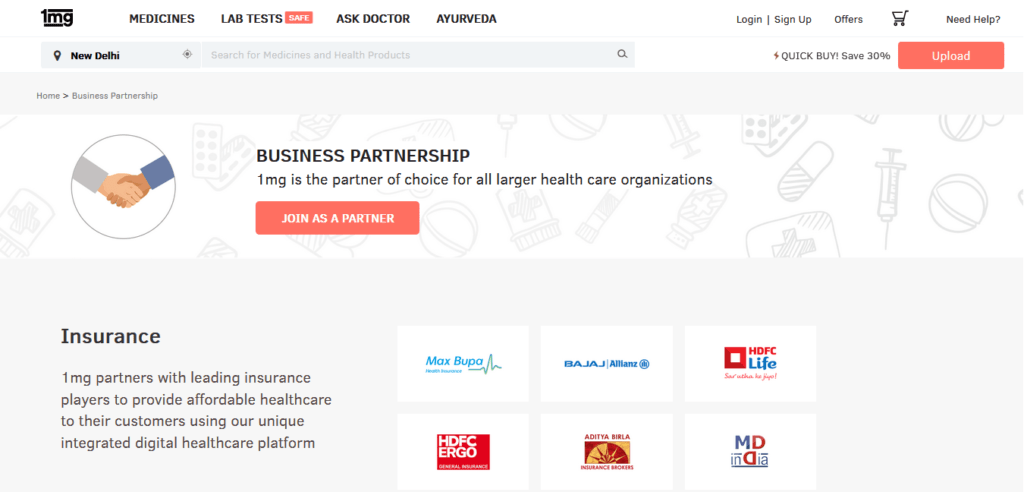 For most companies, it's mandatory to have a heathcare plan for their employees. And companies spend a lot of money on the same. 1mg took this as an opportunity to use their existing brand value and connect with businesses.
They tie up with insurance companies and offer affordable healthcare plans to employees of multiple companies. These include regular checkups, discounts on medications, or even care plans that are free for employees while the employer can avail the same for the company at a discounted rate.
5. Subscription-Based Care Plans
This is one of the newer additions in their existing business model. Diabetics need to consume medicines and visit the doctor for testing on a regular basis. It costs a lot over the longer term for the patient.
But with the Diabetes care subscription plan, 1mg offers benefits that save the patient a lot of money for what they'd have otherwise paid more for.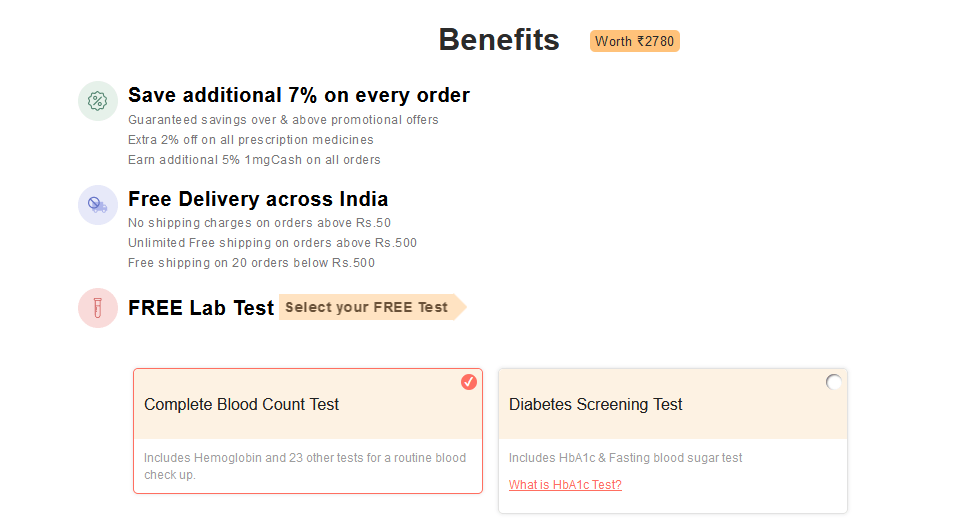 Once a patient opts for the subscription, they get early access to discounts on 1mg, get added savings on every order for being a member, and free delivery. The plans also include lab tests, and doctor consultations apart from the other additional benefits.

With the subscription based business model, 1mg plans to generate a recurring source of revenue for their business to continue functioning.
1mg.com Business Model
Let's go over the 1mg business model here. Now as we've already mentioned that 1mg is a loss making company at present and their net revenues are negative. The reason for the same is the cash burn that happens on marketing and promotion.
1. Customer Segment of 1mg.com
People who require regular medicines that aren't available easily
Those who need to perform tests but cannot visit the doctors or labs
Businesses that want to inculcate healthcare for their employees
2. Customer Relationship
On-call support during the day
Email and contact us forms
24×7 doctor consultations
At-home diagnostics
3. Key Resources
Network with licensed pharmacies
Affiliated laboratories and diagnostic centers
Sample collection personnel
Doctors onboard
Insurance companies
4. Value Proposition of 1mg.com
Fast access to medications with delivery at home
Sample collection from home for lab tests and diagnostics
Easy to use application that makes it easy for customers to access
Consultation with qualified doctors online without the need to visit the clinic
5. Key Activities
Build networks with pharmacies, insurance companies, and diagnostic centers
Marketing activities and social media promotions
Application maintenance and development
Delivery of medicines at home
Sample collection from patient's home and delivery to licensed laboratories
Allowing members to set up 1mg franchise for INR 10,000 under the Sehat Ke Sathi program
6. Fixed and Variable Costs
Employee salaries and business partnership commissions
Costs for online and offline marketing
Payments for onboard doctors
7. Revenue Sources for 1mg.com
Lab and diagnostic tests
Online medicine order delivery
Doctor consultation
Healthcare Partnerships
Subscription-based care plans
What is the Marketing Strategy of 1mg.com?

1mg.com focuses its marketing strategy on local and digital marketing of its services. Its digital marketing efforts bring in a weekly growth rate of ~1% on their social channels and a 5.13% weekly growth on their web traffic. This is in comparison to 1.7 million startups across the web.
Their main focus in the digital realm is content marketing. They leverage the knowledge of the healthcare industry and offer authentic medical advice on their website through writing articles and blogs. Because these articles are read by hundreds of thousands of users, they focus their articles on Ayurveda in English and Hindi

Frequently Asked Questions
Let's go over some of the common questions that have been asked by many users.
What is 1mg medicine?
1mg.com is a medicine delivery application from India. They also offer online diagnostics, doctor consultation, and sample collection from home.
Is 1mg medicine genuine?
Yes, 1mg.com is a 100% genuine company that offers legitimate medicines from licensed pharmacies pan-India
Who is the founder of 1mg.com?
1mg.com is founded by Prashant Tandon, Gaurav Agarwal, Vikas Chauhan, and Tanmay Saksena.
What is 1mg.com's marketing strategy?
1mg leverages content marketing and provides high-value content to attract search traffic to their website. These users are then converted into customers by offering discounts and first-time buyer promotions.