Brave is a free browser that blocks trackers and ads. It pays users to browse the web too. But how does Brave browser make money? Let's get started with a quick summary so you have context for the rest of the article.
How does Brave make money?
Brave makes money in two ways – by serving acceptable ads and through BAT tokens. Brave strips ads from websites and serves "acceptable ads" to users. Users in turn get rewarded BAT tokens for their attention and can directly sell these tokens on major crypto-exchanges.
Let's dive deeper into the workings of the Brave browser, what it offers, and how it generates revenue to sustain operations.
You may also like: How Does Google Make Money?
What is Brave – A Brief History Of The Company
For the uninitiated, the Brave browser pays you to view ads. But this is a recent addition to their story.
To gain market share in a saturated market, the company started with its focus on a niche segment of users – people who valued their privacy and were tired of websites tracking them everywhere.
This niche, while much smaller than "everyone", is still a large chunk of the new-age users.
And the brains behind Brave, Brendan Eich, creator of JavaScript and co-founder of Mozilla (Firefox), and Brian Bondy of Khan Academy and Mozilla, knew this perfectly well.
Brian Quits Mozilla
When Brian Bondy left Mozilla in 2013, he clicked a picture with Brendan who is a celebrity in the coding industry.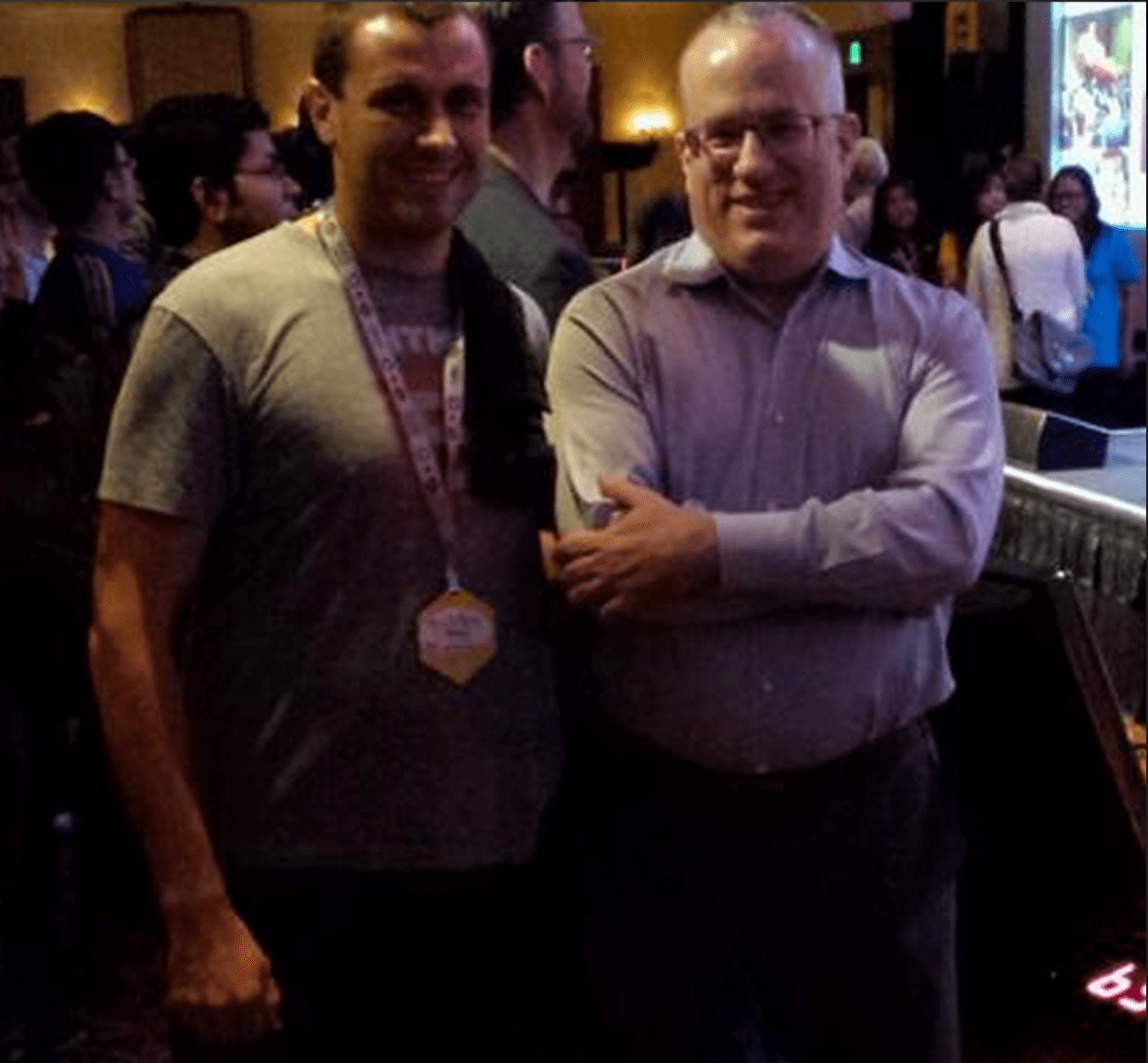 "It took me all night to gather up the courage to ask for a picture, but I finally did it." - Brendan
Brendan Reaches Out To Brian
After quitting Mozilla, Brendan reached out to Brian for an opportunity. At that time, Brian was already at Khan Academy and was not looking for a job.
But he decided to ask about the offer anyway.

And that's how Brave came into existence.
Brendan was great at web technologies, but he needed someone to build a Windows version for the Brave browser.
Brian was the right person for this task.
Brave Browser's Initial Pitch Deck
Brendan sent out an initial pitch deck for the idea for Brave. While Brave started with a different name, the basics have continued to be the same:
Users should own their data so stop allowing tracking
Speed up page load time and reduce bandwidth by blocking bad things.
Pay publishers via crypto so they do not have to suffer any loss due to ad blocking within Brave

P

ay users a share of the generated revenue for their attention.
Moving Ahead
Brave does all that and much more now!
With the successful ICO of their Brave Attention Tokens (BAT), the company is on the right path.
Now it's time to answer two major questions: How does Brave work and how does Brave browser make money?
How Does Brave Work?
Brave is based on the Chromium browser. The features are very similar to those offered by Chrome. But it comes with a few major additions.
Here's a list of the major features that make Brave a successful browser:
Ad blocking
Fingerprinting prevention
Cookie control
HTTPS upgrading
Block scripts
Per-site shield settings
Configurable global shield defaults
A lot of these features need to be installed as addons when you use another browser like Chrome or Firefox. So having deep integrations into the browser built by the company is great.
Working of BAT Tokens
Brave uses BAT to generate revenue for content publishers on the web and for the company. Let's discuss how it works.
BAT is a cryptocurrency token much like Bitcoin and Ethereum. It holds a dollar value which (as of writing) is $0.7.
And the total supply of BAT is capped at 1.5 billion. What this means is, there can never be more than 1.5 billion BAT tokens.
This may be a bit technical for those who have never dabbled into the crypto markets, so bear with me.
As more users migrate to Brave, more of these 1.5 billion tokens are distributed to the users.
The number of tokens in the open market reduces while the demand continues to remain the same or rises.
And with that, the value of the tokens begins rising.
At present, Braver as a company holds 16.7 million BAT tokens. While the number isn't a lot compared to larger companies, it's the long-term vision that keeps the Brave team going.
With their new releases like the Brave search engine, there is potential for the BAT tokens to rise up to new heights which in turn will increase the valuation of the company manyfold.
Acceptable Ads
Brave Browser comes with in-built privacy and ad-blocking features. So it affects content creators. Bloggers, YouTubers, and many other types of content creators rely on ads for their revenue generation needs are affected by adblocking.
To offset the revenue loss for content publishers, Brave serves optional Acceptable ads.
These ads do not track the activity of the users. Instead, they're based on the content that is present on the browser's screen. This is similar to the keyword-based ads served by DuckDuckGo to make money.
By replacing the ads, content creators continue to earn revenue. And along with that, Brave now has more power and control over the ads.
It can choose which ads are served, how they affect the content publishers and users alike.
And lastly, Brave distributes part of the revenue to users for viewing those ads. This is a win-win sort of situation.
With this, let's get right to the revenue generation of Brave. How does Brave make money?
How Does Brave Make Money? – Revenue Model
Being from the open-source community, the founders of Brave first started out by adding value to the community. They were solving a niche problem but the propensity to pay for a solution wasn't there.
People were able to achieve acceptable privacy through the use of browser extensions. But the main reason for people to switch was that the browsers themselves have built-in tracking.
Brave aimed to solve this problem at its core. But browsers are free. So here's how Brave browser makes money.
1. Acceptable Advertising
While Brave blocks ads by default, users are given the option to turn on acceptable ads. These ads do not track the user behavior between sites or through the use of cookies. Instead, they only work on the website that a user is on.
To encourage more users to turn on acceptable advertising, Brave rewards users with a revenue share of the generated ad revenue.
So the more a user browses using Brave, the more revenue they can generate. According to a "medium" web user on Reddit, they were able to make $120 in BAT tokens while using Brave for over a year.
This may not be groundbreaking in any way or form.
But when you consider that no other browser shares its revenue, the BAT tokens become an addon for you.
The Brave browser itself has no learning curve and you can easily migrate from Chrome to Brave. As you perform your regular browsing and consume content online, BAT tokens accumulate in your wallet.
2. BAT Tokens
Talking about BAT rewards, let's understand how the tokens help Brave sustain their company.
Brave allows advertisers to run their ads on the browser. Along with accepting dollar payments, the company also accepts crypto payments for these ads.
As more users are onboarded to Brave, more advertisers are willing to pay to advertise.
This cycle repeats itself.
As the ad revenue increases, Brave takes a part of the revenue and shares the rest of it with the publishers and the users as BAT tokens.
This increases the number of BAT tokens used in transactions. More BAT tokens are handed over to the publishers and users.
There are only 1.5 billion BAT tokens available, remember?
This distribution of BAT reduces the number of tokens available for trading on open exchanges like Binance and drives the price of BAT up.
As of this writing, 1 BAT is priced at $0.7 which brings the total market cap of 1.5 billion BAT tokens to $1.05 billion.
The higher the price of BAT, the higher the assets of the company.
And more users are attracted to use the browser.
3. Brave Search (New)
Brave Search is a recent addition to the Brave stack of tools. They aim to take over part of the privacy-conscious searchers away from Google to Brave by adding it as a default search in their browsers.
The search engine can deliver ads, and even run affiliate partnerships with large online retailers like Amazon and eBay to generate additional revenue.
4. Crypto Wallet Partnership
Gemini Wallet integrates with Brave to allow users to cash out the earned BAT tokens and sell them over at any of the exchanges.
Users also have a choice of creating a local wallet instead of the Gemini wallet which gives them complete control of their tokens.
Brave receives a small part of the transaction fees and referral fees from Gemini to enable mass-scale distribution.
Frequently Asked Questions – Brave Business Model
How much does Brave pay its users?
When it first began, Brave-supplied ads distributed 70% of the revenue to publishers while Brave kept 30%. With the recent changes, Brave now pays out 70% to publishers, 15% is distributed to users, and 15% is earned by the Brave browser.
How does Brave make money?
Brave makes a majority of its revenue from acceptable advertising. It pays out 70% of the BAT tokens to publishers, 15% to users, and keeps the remaining 15% for itself. As the value of BAT tokens increases, so does the value of Brave as a company.
Is Brave owned by Mozilla?
Brave Software is co-founded by former Mozilla CEO Brendan Eich and has raised $4.5 million in seed funding. However, it is not owned by Mozilla and the co-founders continue to be major shareholders of the company.
Conclusion – How Does Brave Make Money?
On the outside, Brave may seem like yet another browser in this largely saturated web browser space. But with the vision of founders who built Mozilla, Brave might as well be on the path to becoming the first web3 browser out there.
It already has everything it needs – crypto enthusiasts as users, integrations with web3 services, and privacy-focus while being open-source.
The support is there, the tech can be added!
I hope you enjoyed reading this article on how Brave makes money. You may also enjoy reading our recent additions shown below.