Discord is one of the leading, completely free chat apps in the gamer circle in 2020. So how does Discord make money? What's the Discord business model? Let's break this article down into small bite-sized chunks and figure out how Discord sustains its business!
How does Discord make money?
Discord makes money by offering its Discord Nitro subscription to its 200+ million users for upgraded cosmetic features on the app. Their large user-base attracts investor attention and Discord raised a total of $493.89 million from Venture Capitalists at a post valuation of $3.50 billion.
What is Discord?

Discord is one of the best online chat application designed to seamlessly connect gamers over voice, video, or text. It was founded in 2015 and designed with the gaming community in mind. It is optimized for gamers to stream perfectly clear conversations, but Discord finds applications in many other places, including a whole lot of bootstrapped startups.
Some of the Discord features:
100% free communication
Friends List
Smart push notifications
Minimal CPU usage
Convenience for PC or mobile use
Low latency
IP & DDoS Protection
Multiple channels
In-game overlay
and many more…
I'm sure you already know about the Discord chat app. But with their negligible marketing, it might look like Discord is a tiny startup with minimal traction. Let me tell you why it isn't!
Here are some interesting numbers that show how big Discord really is:
200+ Million monthly active users
13.5 Million active servers per week
4 Billion server conversation minutes daily
Use it once, and you'll know that the application is slick and beautifully coded (even if you're not a developer!).
Discord business model
Discord isn't just a classic text, voice, and video chat app. It is a platform for creators to build communities. Much like Facebook groups, you can build invite-only communities on Discord by hosting servers and there are many more super interesting features to the Discord app that you'll continue to find as you explore it. But we're drifting away from our main topic, how does Discord make money after all?
Their business model is split into 3 different sections:
Discord Free chat app
Discord Nitro
Cosmetic Features

Discord revenue sources
Discord did not focus on monetizing their efforts when they started out. Instead, they worked on improving their product such that their target audience, the gaming community, fell in love with it.
Bring in the users, and money will follow.
Now with more than 200 million users, Discord can monetize its product in various ways and continue to experiment around the product.
They currently have two major sources of generating revenue:
Discord Nitro – Discord's subscription service that offers visual perks to subscribed users
Discord Merchandise – A whole lot of Discord branded clothing and accessories can be purchased here.
NOTE: Discord Merchandise is down as of August 2020. Their subreddit mentions that the merch store is down for a retune (but it's been 3+ months now)
Why is Discord Free?
Discord is free because it's a hobby project started by Jason and Stan in 2015 to help the gaming community, talk better online.
Back in 2015, Discord's founders, Jason Citron and Stan Vishnevskiy were crazy gamers and loved the friendships and communities that they could build while playing online games. Yet, most of the tools that were available for communication back then, were slow and choppy and came in the way of seamless communication. So, Jason and Stan set out to create a better tool.
They started it out as a hobby project to help their gamer friends talk to each other without interruptions. And soon enough, the community had fallen in love with their app! 200+ million users.
But both the founders decided to stick to their promise of an open and free application for online communication. So if they maintain so many users, host so many servers, and do so efficiently, how is Discord free? Let's get right to it.
How is Discord free?
Discord offers free text, voice, and video chat features, audio and video streaming, joining up to 100 servers, and much more. That must be a lot of overhead for Discord themselves, right? Because of its large user base, Discord has huge Venture Capital funding. According to Pitchbook Data, Discord received a total funding of USD 493.89 million since it started out.

As of this writing, Discord's net worth/post valuation is $3.50 billion with 165 employees on board. They are able to sustain their large user base with hundreds of millions of dollars in funding.
How does Discord make money?
Discord makes money by providing free value upfront and letting power users opt for the Discord Nitro subscription to upgrade the cosmetics of the app. According to the financial data collected from Pitchbook, their revenue for 2019 was $70 million.
Do people really pay for the Nitro subscription? The subscription costs $9.99/month or $99.99/year and offers features as server boosts, bigger file upload size, high resolution streaming, additional and custom emojis, animated profile avatar, and more.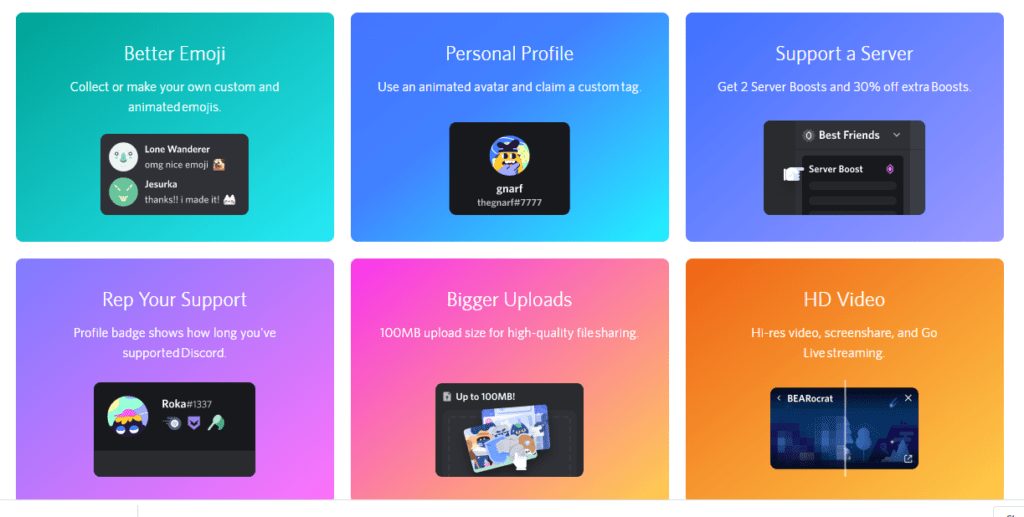 Even by considering the lowest conversion rate of 1% for SaaS companies, Discord would still have 20,000 paying users accounting for $2,000,000 in revenue. Since the financial data shows the revenue to be $70 million, we know their conversion ratio is way superior!
With this done, let's discuss a few questions that have been asked about
Frequently Asked Questions
There are a lot of questions that I see being asked around different forums and question-answer websites. These are some of the most frequent questions that I've seen around the topics of how Discord makes money.
Is Discord free to use?
Yes, Discord is completely free for personal as well as commercial use. Their paid subscription, Discord Nitro, gives a few additional non-essential features like emojis, badges, animated avatars, etc. It stands more as an opportunity for Discord's raving fans to support the company's existence and keep the company profitable
How much money does Discord make?
According to Pitchbook, their 2019 financial data shows $70 million in revenue.
What is Discord worth (Discord valuation)?
As of August 2020, their last funding round brought in $100 million of Venture capital funding to their company from taking their post-funding valuation to $3.50 billion.
How much does a Discord server cost?
Discord's servers are free to create for all users, free and paid. Discord Nitro Classic and Discord Nitro users get additional benefits of hosting boosted servers.
Finally…
That should be the end of our short article on how does Discord make money and the discord business model. If you love to read about businesses, go have a look at some of our other business model case-studies on Google, Gmail, and a freemium business model Duolingo.
If you love to learn about retail you can also checkout the Dmart business model or the Walmart Business Model here.
Stay tuned for more business case studies!